UnNews:New Waterford hit simutaneosly by hurricane and earthquake
Jump to navigation
Jump to search
---
We distort, you deride
✪
UnNews
✪
Tuesday, March 21, 2023, 17:25:

59

(UTC)
---
| | | |
| --- | --- | --- |
| New Waterford hit simutaneosly by hurricane and earthquake | | |
24 April 2007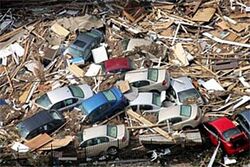 New Waterford, Nova Scotia (UnNews) - A major hurricane (Hurricane Rita) and an earthquake measuring 5.8 on the Richter scale hit New Waterford in the early hours of Monday April 23rd 2007 - with its epicentre at Plummer Ave. Victims were seen wandering around aimlessly, muttering "Jeez Bye, what was Dat !"
The hurricane decimated the area, causing approximately $330.00 worth of damage. Three scratches were seen on Frank Morrison's mustang. Many locals were woken well before their Unemployment Insurance Cheques arrived. The weekly newspaper "The Community Press" reported that hundreds of residents were confused and bewildered, and were still trying to come to terms with the fact that something interesting had happened in New Waterford .
One resident - Tammy Smith, a 15-year-old mother of 3 said " It was such a shock, me little girl, Chardonnay-Mercedes, come running into my bedroom crying and me youngest two,the twins, Alexander and Keith slept right through it all, bye."
Apparently drunken brawls and car crimes were unaffected and carried on as normal. The Cape Breton Regional Municipality has arranged to relocate 300 residents to temporary shelter at the local rink. Mayor John Morgan said "Conveniently, these individuals were already inside the rink playing bingo when the hurricane struck." The Red Cross has so far managed to ship 4,000 crates of Captain Morgan to the area to help the stricken locals. Rescue workers are still searching through the rubble and have found large quantities of personal belongings, including jewellery from the Bargain Shop, Bone China from Canadian Tire and a large number of Bingo cards.
God was unavailable for comment.
HOW CAN YOU HELP?
This appeal is to raise money for food and clothing parcels for those unfortunate enough to be caught up in this disaster. Clothing is most sought after - items most needed include: mesh hats, tracksuits, wife beater T-Shirts, flannel shirts, white sport socks, and Reebok boots. Any other items usually sold in The Dollar Store would be welcome.
Food parcels may be harder to come by, but are needed all the same. Required foodstuffs urgently needed include: Kraft Dinner, Ice cream and Beer. $15.00 donations will be accepted to buy a pack of Players 25s and a lighter to calm the nerves of those worst affected.
In a recent int3erview, fund organizer Esenam Ayele said, "FROM THE DESK OF DR ESENAM AYELE HELP URGENTLY WANTED FOR EARTHQUOAKE FUND OF $1.000.000.000 US DOLLERS."
Sources
[
edit
]