UnNews:Joe Torre found to have rare anti-smile disease
Jump to navigation
Jump to search
---
Straight talk, from straight faces
✪
UnNews
✪
Tuesday, June 6, 2023, 20:52:

59

(UTC)
---
| | | |
| --- | --- | --- |
| Joe Torre found to have rare anti-smile disease | | |
21 September 2007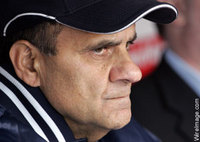 Today, long time manager of the New York Yankees, Joe Torre, revealed to the media that he has a rare condition that makes him unable to smile. According to his doctor, Torre has been a long-time sufferer of the horrid disease. When questioned about the condition, Torre walked away and acquired another expensive free agent who will do the Yankees no good.
Doctors studying this rare disease say that there are many symptoms that can cause permanent suffering. Its formation is believed to be linked to high stress and excessive losses of important baseball games. Also, aging and constant pressure from a higher power like George Steinbrunner or Satan can greatly increase the effect of the disease. We all know it takes more muscular movement to frown than to smile. Following all Torre's frowning after a devastating loss to the Red Sox in the 2004 ALCS, his face muscles are bound, and he can no longer smile.
At this time there are no real cures. On the other hand, some illegal plastic surgeons say plastic surgery may actually cure this disease. But, it has been found that most of these doctors have fake degrees from a website. A doctor we spoke with gave a suffering patient with this rare disease a face-lift and now they smile 24/7. There is only one problem with this treatment; If you can only smile, when you look at small children, people will think you are a pedophile. Many pedophiles use this disease as an excuse for their habit.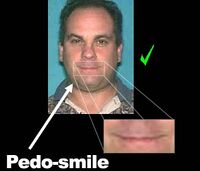 This announcement has also had a devastating affect on the Yankees franchise. No longer do greatly overpaid players want to join the franchise that has a freak for a coach. In fact, a new record has been set by the Yankees players; apparently every player but one wants to be traded far away. The one player who hasn't asked to be traded apparently has no knowledge of the English language and is illiterate. Many people challenge the authenticity of this announcement because they saw Torre smile after beating the Red Sox. Well, this event was actually was a medical malfunction of a new drug caused by breaking a 14 game losing streak and being only 14.5 games behind the Red Sox in the AL East. When Johnny Damon was asked about the situation he replied, "I don't know. I don't want to be around such a negative person all the time. I mean, how can you know if you made a good play if he can't smile at you?" Fan reaction is very similar to that of the players. A drunk from the local bar told reporters "He just looks like an idiot! I mean he almost looks suicidal. He lurks in the corner of the dugout like one of those emo kids." And lurk he does.
The celebrity world was also brought into this matter and that just makes people frown. A complete investigation is underway to seek out which celebrities have contracted the disease. "Celebrities will spend large amounts of money to get the best plastic surgeon just so ASD doesn't affect their reputations and high income" said a leading researcher,"It is also known that some Mexicans are good plastic surgeons and are smuggled over the border just to help celebrities with their issues. Thus, there is now a much larger population of illegal Mexicans in the US." Reports say that there are so many cases of this disease in the celebrity world that it is just depressing. So depressing, in fact, that I may have just contracted ASD. I hate my job.
Sources
[
edit
]