UnNews:Hezbollah Popularity Rises With New Mascot
Jump to navigation
Jump to search
---
Democracy Dies with Dignity
✪
UnNews
✪
Tuesday, June 6, 2023, 19:02:

59

(UTC)
---
| | | |
| --- | --- | --- |
| Hezbollah Popularity Rises With New Mascot | | |
8 August 2006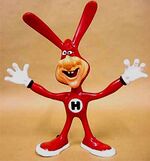 BEIRUT (PLA) -- As the war in Lebanon approaches the one-month mark, and amid the destruction of much of Lebanon, Hezbollah appears to be gaining strength within the country and around the Arab world.
And much of the rise in the popularity and power of the Hezbollah can be attributed to the organization's new mascot, "Hezbanoid," a wacky, crazy little character based on the "Noid" character formerly representing and licensed from the Domino's Pizza chain. The adorable Hezbanoid has allowed the Hezbollah, known in many western countries as a "terrorist organisation", to be widely seen in Lebanon as a legitimate political and social power.
According to an official representative of Hezbollah and member of the Lebanese Parliament, the Hezbanoid assures people that the Hezbollah is not intending to turn Lebanon into an Islamic state.
"Hezbollah is a democratic party whose principles are based on the Lebanese constitution," Tarad Hamade told PLA. "We respect the cultural and religious diversity in the country, and want to be fun and crazy like Hezbanoid."
Hamade, who is also labour minister, said: "Israel wants to terrorise the country and inflict as much damage as possible. They call us terrorists, but do they have a wonderful mascot like the Hezbanoid? No. So who are the terrorists?" More and more Lebanese are beginning to hold this view.
Lebanese see the destruction by Israelis all around them. The damage to the civilian infrastructure will cost billions of dollars to fix. But the result of Israel's attack has had an opposite effect. Rather than pressuring Hezbollah by destroying Lebanon, Israel has increased popular support for the group, and brought the wishes of most Lebanese more in line with the stated goals of the Hezbanoid and the Hezbollah to keep Israel at bay.
The Hezbollah is engaged in at least 60 percent of the relief efforts in Lebanon, and a large, Hezbanoid walk-about is often there to comfort the children and adults who have been displaced. It is the kind of work that created the Hezbanoid, gave it power in the first place, and is now only increasing its popularity.