UnNews:Fed chairman likes big bucks
Jump to navigation
Jump to search
---
Who knew The Onion® had a retarded stepbrother?
✪
UnNews
✪
Friday, June 9, 2023, 17:55:

59

(UTC)
---
| | | |
| --- | --- | --- |
| Fed chairman likes big bucks | | |
15 July 2006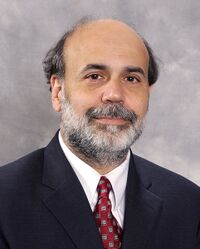 PHILADELPHIA -- In a sign that interest rates may remain unchanged for the foreseeable future, Federal Reserve Chairman Ben Bernanke announced Thursday that he likes big bucks.
"I like big bucks, and I cannot lie," Bernanke said during his keynote address at the National Banking Association's annual meeting in Philadelphia. "And all you other bankers can't deny, that when a bond walks in with a mucho grande rate and big interest in your face, you get sprung. Wanna pull up front, and you notice that loan was signed -- it's approved, and blows my mind."
The chairman's remarks come on the heels of sharp increases in energy prices and a weakening stock market. Many financial analysts expect an economic slowdown in the second half of the year, with some forecasting a possible recession.
Bernanke, flanked by Federal Reserve Board governors and backed by a thumping Miami bass, indicated that he may look into another interest rate cut to stave off a downturn and increase the money supply.
"I like it round and big, and when I'm meeting a gig (in Congress), I'm acting like an animal," Bernanke said. "Now, here's my scandal."
The Fed Chairman added that he would like to get the U.S. money supply home and "ugh, double ugh," and told the ladies that if they wanted a ride in his Mercedes, they should expose their bucks.
"Even white boys got to shout, baby's got bucks," Bernanke concluded.
Bernanke's speech is the strongest statement of his monetary policy since an appearance before the Senate Finance Committee last month, when he asked Finance chairman Chuck Grassley, R-Iowa, if he "was down with commodities?"
"Yeah, you know me," Grassley responded.
Martin Beesler, an analyst with Morgan Stanley in New York, said this appears to be a sign that Bernanke is "unconcerned" about inflationary pressures.
"While cutting the interest rate may drive prices higher, Bernanke apparently agrees with other economists that the cost of living is not yet a worry for the U.S. economy," Bessler said. "This is a significant departure from (former Federal Reserve chairman) Alan Greenspan's 'Momma Said Knock You Out' approach to inflation."
In response to Bernanke's remarks, European Central Bank president Jean-Claude Trichet stated "Cash Rules Everything Around Me."
Sources
[
edit
]