UnNews:FTX crooks and prosecutors exchange lies
Jump to navigation
Jump to search
---
Straight talk, from straight faces
✪
UnNews
✪
Wednesday, February 1, 2023, 15:22:

59

(UTC)
---
| | | |
| --- | --- | --- |
| FTX crooks and prosecutors exchange lies | | |
25 December 2022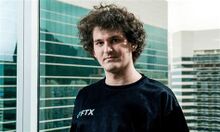 WALL STREET, New York -- Suspects and lawmen exchanged falsehoods this Christmas, as the yuletide federal trial of Sam Bankman-Fried approaches.
Caroline Ellison, 28, CEO of Alameda Research, and Gary Wang, 29, a co-founder of ruined kleptocurrency firm FTX, both stated in their proffer to the U.S. District Court for the Nether District of New York that they were "truly sorry for what they had done." That is what the legal profession refers to as bollocks, as both were willing and eager to continue running this particular con as long as there were checks left in the proverbial checkbook.
The two also wrote to the court that they "were aware that what [they] were doing was wrong." That much of the obligatory plea is probably true. Ellison stated that she knew that FTX was running a negative balance at Alameda, effectively borrowing billions of customer money without either paying interest or posting collateral to cover it. And Wang personally typed the semicolons that commented-out the lines of website code that were to provide airtight protection against this exact type of chicanery.
For their part, the prosecutors in the Nether District told a little white lie of their own, concealing from Bankman-Fried, 30, that they had "flipped" his №1 and №2 executives into State's Witnesses until Bankman-Fried had given up his arguments against extradition from the Bahamas and was in the air to New York, a federal marshal in the next seat in First Class uncorking the champagne to toast his return to the modern world. Bankman-Fried is now awaiting trial at his parents' house on the opposite coast, the tony $4 million home and its mortgages pledged to satisfy his $250 million bail bond. A Stanford University security guard stands outside, not to protect the nation from his escape but to protect him from his customers.
The participants traded lies presumably because they believed that more conventional exchanges such as gifts would be frowned upon, given that Joe Biden gave the traditional presidential Christmas speech while avoiding mention of either Christmas or Christ.
Sources
[
edit
]