UnNews:Executives get defenestrated
Jump to navigation
Jump to search
---
UnFair and UnBalanced
✪
UnNews
✪
Wednesday, November 29, 2023, 21:58:

59

(UTC)
---
| | | |
| --- | --- | --- |
| Executives get defenestrated | | |
5 September 2022

MANHATTAN, New York -- The man who jumped from the 18th floor of Tribeca's "Jenga Building" last Friday has been identified as the chief financial officer of troubled Bed Bath & Beyond.
The corporation's stock has gyrated in price, as Gen Xers "pump" the stock on forums such as Reddit and "dump" it using apps such as Robinhood. At the same time, the Xers are getting less sleep than ever before and obviously do not shower, doing a double-whammy to the corporation's bread-and-butter of Bed and Bath. The retailer sees hope selling Beyonds, but cautiously plans to close 150 of its stores, fire 20% of the workforce, and obtain $500 million of new financing despite no longer having a financial officer.
Some speculate that CFO Gustavo Arnal may have taken his employer's tumult as a personal failure and decided to end it all — which, sadly, his demise does not do.
The tower is called the "Jenga Building" because its apartments are purposely misaligned, so that the building resembles the popular game "Jenga." In contrast, none of the nearby buildings with identical, cell-like apartments is called the "Scrabble Building." However, there is a building in Mexico City certified earthquake-proof by corrupt municipal inspectors that, at the end of its brief existence, was referred to as the "Blockhead! Building."
The "Jenga Building" is a home to the mega-wealthy, featuring 19-foot ceilings, gas fireplaces, and three terraces totaling 1,252 square feet. This, and their deliberate misalignment, make it the perfect venue for one to jump to his death, as there is little chance of simply landing on the downstairs neighbor's terrace with perhaps a couple broken bones, but relative certainty of making it all the way down to the pavement of Leonard Street in a messy splatter.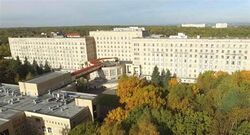 The tragic death comes mere days after Ravil Maganov, chairman of oil-and-gas giant Lukoil, fell to his death out of a 6th-story window at a Moscow hospital, which does not have a cute name because it does not resemble any game, except perhaps Game of Thrones. Unlike Arnal, Maganov had little difficulty with his business, as China and India are buying product that Europe and the U.S. are boycotting in view of the invasion of Ukraine. Indeed, his personal campaign to pester Vladimir Putin to stop the invasion was expected to bear fruit in short order. TASS said that Maganov died of injuries sustained in the fall, despite being conveniently close to the hospital he had fallen out of.
CNN states that five prominent Russian businessmen have suffered mysterious deaths just this year, a possible consequence of Larry Kudlow's stratagem that America step up pressure on Russia's oligarchs to nag Putin to sue for peace, such as by impounding their yachts. While patients are always tempted to open the hospital window and take in a deep breath of the Moscow air, suspicions in town are that Maganov was the object of a procedure, featured in the movie Braveheart, called defenestration, in which upper-story windows are used to influence the process of succession and promotion.
On Thursday, U.S. President Joe Biden bathed Philadelphia's Independence Hall in red light and gave a speech that called MAGA Republicans a "threat to democracy", as well as to the climate, fentanyl equity, and the number line itself. Partisans such as Marjorie Taylor Greene have wondered whether Arnal, too, was defenestrated — perhaps by the same FBI agents who conducted the raid on Mar-a-Lago last month. She vows, if the Republicans win Congress in the mid-term elections in November, to convene hearings on whether Arnal was a MAGA Republican — perhaps as MAGA as Maganov — and federal agents pushed him out of the "Jenga Building" in a misguided effort to defend the nation.
Sources
[
edit
]
Tina Moore, Rich Calder, Amanda Woods "Bed Bath & Beyond CFO falls to his death from New York's "Jenga" tower". MarketWatch, September 4, 2022
Anna Chernova, Frederik Pleitgen, Chris Liakos and Julia Horowitz "Lukoil chairman dies after falling from a Moscow hospital window". CNN Business, September 2, 2022
Nick Gilbertson "Republican Kari Lake Likens Joe Biden to Star Wars 'Sith Lord'". Breitbart, September 4, 2022