UnNews:Entire Toyota Board Commits Hara-Kiri
Jump to navigation
Jump to search
---
Truth doesn't "live here" — It's just camping out
✪
UnNews
✪
Saturday, March 25, 2023, 14:31:

59

(UTC)
---
| | | |
| --- | --- | --- |
| Entire Toyota Board Commits Hara-Kiri | | |
6 February 2010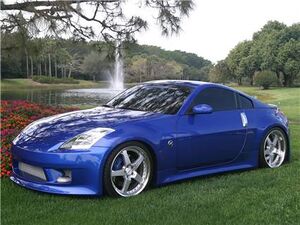 TOKYO, Japan -- The entire Board of Directors of Toyota Motor Corp. has committed hara-kiri, or suicide, in the wake of a corporate scandal involving sticky gas pedals.
The event occurred at a press conference with Japanese media and was spawned by raucous criticism of the Board by reporters who were present.
Akio Toyoda, the founder's grandson appointed to lead Toyota Motor Corp. last June, emerged late Friday to apologize, in his hallmark, endearing, broken Engrish, for the late response to the engineering problem. But the media were not pacified.
"Words are not enough," the top Nikkei business daily commented. "Utterly too late," added the nationwide Asahi newspaper. "The entire world is watching how Toyota can humbly learn from its series of recent failures and make safe cars."
At his first news conference since the recall of 4.5 million cars, Toyoda promised to beef up quality control and said he would head a special committee to review quality checks, go over consumer complaints and listen to outside experts. Asked if he should have acted more quickly, Toyoda replied, "I will do my best." Toyoda and Shinichi Sasaki, who oversees quality control, offered no new explanations for the braking problem.
The press conference started poorly, with reporters wanting to know whether it is the name of the founder's family or the name of the motor company that is misspelled. As cub reporters entered the auditorium, they kept interrupting the briefing to ask for the correct spelling. More experienced reporters became testy, as the correct spelling had been set out in the press kit. However, the media seem not to know whether the problem is with the gas or brake pedal, an area of confusion that the press kit does not resolve.
Consumer affairs minister Mizuho Fukushima also called Toyota's reaction "too slow," and an older, unidentified business reporter for Asahi stated that, in the "old days," there would have been a more elegant solution to such a system-wide failure. Fortunately, the old man had a Samurai sword on his person. It was handed up to the stage, and the entire Board, starting with Mr. Sasaki, used it on themselves in the traditional way, each one first bowing deeper than Barack Obama does. It is not clear whether the corporation, now bereft of a governing board, will resolve the engineering problem faster than it would have done if it had one.
No sense of crisis was apparent in Japan, however. The Toyoda Toyota story was published on Saturday's front pages, but most national newspapers gave more prominence to news such as the earthquake in Haiti, global warming, and the new crop of contestants on Amelican Idor.
Sources
[
edit
]