UnNews:Emirates to build Burj Khalifa knock-off next to Burj Khalifa
Jump to navigation
Jump to search
---
Straight talk, from straight faces
✪
UnNews
✪
Friday, December 8, 2023, 18:14:

59

(UTC)
---
| | | |
| --- | --- | --- |
| Emirates to build Burj Khalifa knock-off next to Burj Khalifa | | |
12 January 2011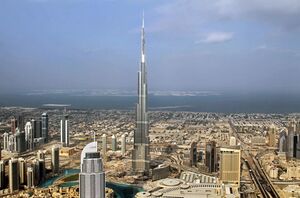 DUBAI, United Arab Emirates -- In light of China's plans to build a hotel in the likeness of Dubai's famed "Burj Khalifa", the United Arab Emirates has announced that it too will join in on the fervor, ushering in a new quest to become the first nation to build the "world's largest knock-off" of the world's tallest tower. So far, a site has been chosen: a patch of sand located merely 500 feet away from the original between a strip mall and an ice skating rink. With a budget of nearly 5 billion dollars and roughly 3,000 undocumented Indian laborers needed, the project proves to be a daunting task. President Khalifa Bin Zayed Al Nahyanistan, for whom the building is named, however, states that he has much faith in the crew behind construction.
"This time, we expect to see a building at least twice the size of the original. I know we can do it. It will simply require that we work twice as hard as we did before, with more expensive materials and faster."
The building is set to become the first "thousand star" hotel in the world, an honor bestowed by the International Burj Khalifa Rating Committee, and will include nine Olympic-sized swimming pools, twelve roller coasters, a petting zoo, a fishing hole, and the world's first virtual observation deck, located just beneath the actual observation deck, for observing such unique sights as Dubai's famous beaches, dunes and sandstorms. Additionally, each room is expected to have it's own unique theme, where visitors may delight in such extravagancies as private seafood buffets and evergreen-scented walls made of live imported evergreens.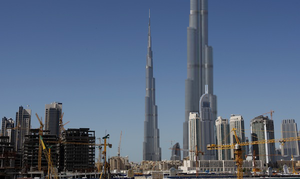 "A team of gardeners 200 strong will be needed to water the plants daily, as well as several dozen expert plumbers to deal with the complex watering mechanics," predicts Randall Takahashi, a contractor. "Indeed, the proper wildlife and climate for these innovative room designs would be in order. Our aim will be for the visitor will feel as if they were camping in an actual forest, rather than relaxing in a luxury hotel. A true experience I imagine they will never forget. It will almost be as if they were spending no money at all!"
The hotel will also incorporate a new waste-based green technology to power many of its features, a technology soon to be expanded to other parts of the city, leading some experts to believe that Dubai will be "effectively running off its own excrement" by 2015.
Economy-wise, Arab leaders hope that the tower will attract at least twice the amount of visitors than the previous one did in order to fill the financial void that was caused by its construction.
"Last time, we offered to sell individual apartments but not nearly as many people bought as we had anticipated," said another contractor. "We have solved this problem by making this one a hotel."
President Al Nahyan hopes that this project will eventually aid his nation in its long-term goal of acquiring the most "stuff".
Sources
[
edit
]