Number bases
Jump to navigation
Jump to search
Number bases are convenient ways of counting things invented by Indian mathematicians. All number and all forms of counting come originally from India. The most important thing to know is that the Indians invented all numbers, numerals, and mathematics.
Digit Placement Systems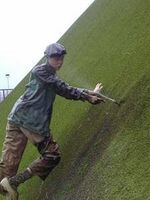 All of the following number systems vary in a number of different aspects, however one of the most important factors to recall when looking at the various numeral systems is that they almost all use digit placement as a method of determining value.
For instance, quaternary expands by digit placement, even though it appears limited by the lack of digits. Where you put the digit dramatically increases or decreases the value. Placing a digit in one hole can cause a positive reaction, whereas placing digit in another hole will cause a negative reaction, and an inability to place said digit in the first hole that we were discussing again. The reasoning behind this should be obvious.
Digit placement in quaternary works thus:
0, 1, 2, 3, Lots, Lots-1, Lots-2, Lots-3, 2-Lots, 2-Lots-1, 2-Lots-2, 2-Lots-3, 3-Lots, 3-Lots-1, 3-Lots-2, 3-Lots-3, Heaps
A famous example of using digit placement relates to the boy putting his digit in the dyke in an attempt to save his hometown from flooding. No doubt, he saved the town in this instance, but often putting your digit in a dyke will have a very different value.
Base 0 - The Nunnery system
Base 1 - The Urinary system
Base 2 - the Binary System
Base 4 - The Quaternary System
Base 8 - The Octal system
Base 10 - the Decimal System
Base 16 - The Hexadecimal System
Other number systems
Base

I

- The

ROMAN

numeral system
Base £ - The Imperial system
Summary
Obviously the Indians invented every number system, as well as everything to do with numbers. Indians invented Algebra, Differential Calculus, Imaginary numbers, factorials, happy numbers, and magic numbers. In fact, every time that you have ever been given any test in school relating to mathematics there's a strong possibility that it was written by Indians.
When you think about it, Indians are bastards, aren't they?