UnNews:Doctors warn of Scrotox dangers
Jump to navigation
Jump to search
---
Democracy Dies with Dignity
✪
UnNews
✪
Tuesday, June 6, 2023, 20:24:

59

(UTC)
---
| | | |
| --- | --- | --- |
| Doctors warn of Scrotox dangers | | |
7 September 2007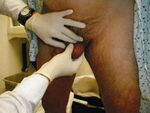 HOLLYWOOD, California, GNN (Goanna News Network). MEN who resort to Scrotox injections in the pursuit of a fresher, younger-looking scrotum are putting their lives and their testicles at risk, doctors warned yesterday.
The controversial Scrotox treatment, which involves a series of injections of botulism toxin directly into the scrotum, is designed to reduce wrinkles and give testicles a smoother, more youthful appearance. Medical experts, however, have warned that the procedure can lead to potentially deadly conditions such as nadular necrosis and Kellogg's spongy nut syndrome.
"Basically, what you're doing is injecting botulism directly into your ballbag," said Dr Chris Cremaster, a senior lecturer in scrotal studies at UCLA. "Whatever way you look at it, that's not good."
"Scrotums are designed to be wrinkly. Sometimes your balls hang low, and you can swing them to and fro, and at other times -- when you're swimming in cold water, for instance, or looking at a picture of Tyra Banks -- they retreat completely into the abdomen.
"All this is perfectly normal, but when you take Scrotox you reduce the mobility of your testes, which can lead to all sorts of complications."
Dr Ruud van Deferens, a testicular trauma surgeon at West Hollywood's Jesus H. Christ Hospital, said his emergency department had seen an alarming rise in Scrotox-related admissions.
"I've seen men whose testicles have shrivelled up like raisins, and other men whose balls have blown up to the size of baseballs," he said. "The worst, though, is the ones with nadular necrosis -- the entire scrotum turns green and falls off, leaving the testes dangling like stubby little tampons on a string.
"There's not much we can do for nad necrosis. All we can do is try to keep the patient comfortable, and -- if they can afford it -- have a plastic surgeon make them a new nut sack out of a pig's scrotum."
However, the medical director of Scrotox manufacturer American Testicular Technologies Inc, Professor Harry Sachz, said that Scrotox was a safe and effective treatment.
"Nobody wants their plums to look like prunes, yet every man in America knows the heartache of looking down and seeing those unsightly wrinkles," Professor Sachz said.
"For countless generations, men have had to resign themselves to premature ageing of the scrotum, but now we at American Testicular finally have the technology to make them smoother, firmer and tighter than ever before.
"Why should a young man of, say, 21, 22 years of age be forced to go through life with a scrotum that looks like something off of an Egyptian mummy? It's not so much a matter of choice as a matter of basic human rights that a man should be able to have a scrotum that reflects his innate human dignity."
Many attribute the rise in popularity of Scrotox to its widespread use in the adult entertainment industry. However, even some pornographers have begun to turn against the treatment.
Noted pornographer Lodze Kuntz has even gone as far as refusing to cast actors who have undergone Scrotox treatment in his films.
"When a hot and horny, cum-starved teenage lesbo slut is licking a guy's balls you want to see those balls move around a little," Kuntz said.
"With some of these guys, the girls may as well be tongueing a golf ball."