UnNews:Disney forcibly vaccinates cartoon characters
Jump to navigation
Jump to search
---
Every time you think, you weaken the nation —Moe Howard
✪
UnNews
✪
Monday, November 29, 2021, 00:08:

59

(UTC)
---
| | | |
| --- | --- | --- |
| Disney forcibly vaccinates cartoon characters | | |
2 August 2021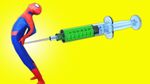 BURBANK, California -- The Walt Disney Corporation has unveiled a compulsory vaccination campaign to jab thousands of trademarked cartoon characters with COVID shots.
According to a corporate statement, "At Disney, the safety and well-being of our 'toons during the pandemic has been and continues to be a top priority." The long list of characters to be vaccinated includes not only classic 'toons like Mickey and Minnie Mouse, but also characters from the various other franchises that Disney has bought out over the years in its quest for world domination, including Lucasfilm (of Star Wars infamy), Pixar (currently busy Finding Nemo to give him the injection) and Marvel Comics (which entraps Spiderman in the same evil corporate web).
The roll-out and implementation has been a nightmare. Certainly the intention was good, but the management has been just plain Goofy. The little man from the draft board in Disney's old wartime cartoons managed to draft Donald and Daisy Duck as the only two available doctors, and both have turned out to be total quacks.
The Star Wars franchise has been a galactic-sized headache, "Have you ever tried to restrain a Wookie to forcibly inject the COVID-19 vaccine?" asked one Disney 'toon. "It ain't easy." And then there's the problem of most of the characters being on other planets; Yoda is at risk because of his advanced age, but no one from Disney headquarters can reach him, as every other planet in the cosmos has banned travel from Earth because of the pandemic running roughshod over the entire planet.
The developments led contrarian Florida Governor Ron DeSantis to view The Secret of NIMH as background. He reacted, "How dare NIMH, the Biden administration's evil federal laboratory, cynically scheme to use these Disney 'toons as lab rats? And what of all the 'toons trapped and held captive aboard Disney's cruise ships off the coast of Port Canaveral and Miami? Someone must save them!" The rumored successor to Donald Trump reportedly reached out to Spiderman and offered him a tropical refuge, free of mask mandates.
Lex Luthor, meanwhile, has barricaded himself inside the Wuhan Institute of Virology... and who knows what he's plotting next.
Sources
[
edit
]
Tune in to COVID-TV, UHF channel 19 for breaking news... all COVID, all the time, all of the latest news only on COVID-19.