UnNews:Dalek announces presidential run
Jump to navigation
Jump to search
---
A newsstand that's brimming with issues
✪
UnNews
✪
Friday, June 9, 2023, 17:22:

59

(UTC)
---
| | | |
| --- | --- | --- |
| Dalek announces presidential run | | |
30 June 2007

DEEP EARTH ORBIT, Space -- The 2008 United States presidential election has received greater intergalactic attention, with a member of interstellar conqueror race the Daleks declaring it would seek to become the next President.
The Dalek announced its campaign on the steps of the Capitol Building in Washington, D.C., which the Dalek space fleet had just decimated. The Dalek, after vaporising members of the media who displeased it, declared its reasons for seeking the highest office in the land.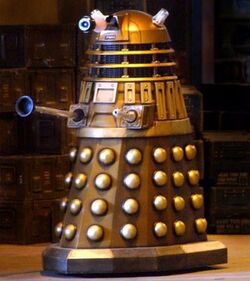 THE DALEKS ARE THE MASTERS OF THE UNIVERSE, declared the Dalek, in the high-pitched mechanical voice that has made the Dalek a celebrity, BUT I AM SEEKING THIS GREAT OFFICE TO ENSURE THE DALEKS ALSO BECOME MASTERS OF EARTH!!! Asked to outline its major policy inititatives, the Dalek was coy.
MY MAJOR POLICY IS THAT ALL HUMANS SHOULD BE EX-TER-MIN-ATE-D said the Dalek, THIS POLICY EXTENDS TO JOURNALISTS WHO ASK TOO MANY QUESTIONS!!!. This was followed by a burst of energy and a blackened skeleton.
The Dalek's campaign team later apologised and said the Dalek was "tired" from EX-TER-MIN-ATE-ING the population of Iraq. The Iraq War, already shaping up as a major campaign issue, is something on which the Daleks have strong views.
THE DALEKS WILL EX-TER-MIN-ATE ALL TERRORISTS!!!' shouted a Dalek campaign official. THE DALEKS WILL EX-TER-MIN-ATE ALL ENEMIES!!! This was followed by another burst of energy, and another blackened skeleton.
The Dalek declared it would seek both the Democratic and Republican nominations but would likely run as a third-party candidate. When asked if it could win the election as an independent, the Dalek said: ALL WHO REFUSE TO VOTE FOR THE DALEKS WILL BE EX-TER-MIN-ATE-D!!!
The Dalek has already attracted some high-profile Republican support, including that of Bush aide Karl Rove, who will manage the Dalek's campaign. Republicans nation-wide have become attracted to the Dalek's laconic style and desire to conquer the universe.
The Dalek said it would begin its campaign in New Hampshire, where it would outline major policy inititatives on healthcare and education.
THE DALEK HEALTH PLAN IS TO EX-TER-MIN-ATE THE SICK AND INJURED!!! said the Dalek. THE DALEK EDUCATION PLAN IS TO EX-TER-MIN-ATE TEACHERS UNIONS!!!.
The Dalek also outlined its plan for tackling global warming.
EARTH WILL BECOME A DALEK PLANET!!! said the Dalek, with a smirk (we assume). THE DALEKS WILL SURVIVE NO MATTER HOW WARM THE EARTH GETS!!!.
The White House immediately issued a press statement accusing the Dalek of stealing the Bush Administration's policy initiatives.