UnNews:Chuka Umunna to run for Labour leadership
Jump to navigation
Jump to search
---
Every time you think, you weaken the nation —Moe Howard
✪
UnNews
✪
Tuesday, December 7, 2021, 06:28:

59

(UTC)
---
| | | |
| --- | --- | --- |
| Chuka Umunna to run for Labour leadership | | |
12 May 2015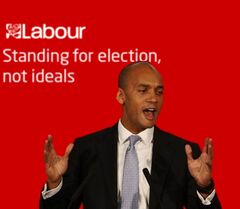 SWINDON, UK -- Labour MP Chuka Umunna has announced for the Labour leadership. Despite well-known and experienced fellow candidate Liz Kendall and potential candidates Tristram Hunt, Andy Burnham and Yvette Cooper standing against him in the contest, Umunna, who had never been heard of until two days ago, is already predicted to win thanks to his divisive policy making, his team-building skills and his inspirational public speaking. Only joking, it's because he's black.
After the disappointing result in the general election where Labour obtained fewer seats than it had done under Gordon Brown, David Miliband was quick to criticise his brother the Labour Party's election campaign, "I sat next to Ed at the dinner table last night. After kicking his foot from under the table a few times I told him that Labour was in such a pickle that the only way it could possibly win the next election would be to play the Blairite and minority cards combined." So Labour's spin-doctoring team were set to work quickly and managed to find a career politician who was both dark-skinned and blue on the inside.
Umunna represents a small but growing minority of Labour politicians with rare surnames. Although we may never get a Prime Minister Miliband or even a Prime Minister Balls, we are still in the running for a Prime Minister Umunna. If Andy Burnham wins the leadership campaign we could even see a Prime Minister Burn-'em.
But the campaign to make Umunna Labour leader goes further than this. Since Margaret Thatcher's win in 1979, Britain and the USA have been in a national leader diversity race to see which country can have the claim to having the most diverse array of leaders. Although Britain may have got into space first with Thatcher, the US seems to be able to reach the moon within the next decade with both a black president and potentially a female president. Umunna may be Britain's only hope to reach the "at least one black and one female national leader" achievement before the US.
Meanwhile South Africa also seems to be jumping on the minority voice leader bandwagon as politician Mmusi Maimane is appointed as the first black leader of the Democratic Alliance Party. South Africa has never had a black president before, although some have attempted to claim Nelson Mandela had black heritage by linking to his ancestry of black relatives. However, as any South African will tell you, "Mandela was as white as Jesus."
Sources
[
edit
]