UnNews:Cheney raps Bush - "Should have pardoned Libby"
Jump to navigation
Jump to search
---
Every time you think, you weaken the nation —Moe Howard
✪
UnNews
✪
Tuesday, November 30, 2021, 17:47:

59

(UTC)
---
| | | |
| --- | --- | --- |
| Cheney raps Bush - "Should have pardoned Libby" | | |
16 March 2009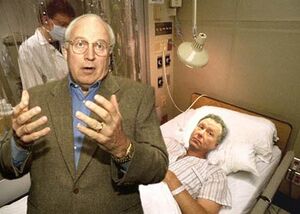 WASHINGTON, USA -— Former Vice President Dick "Dick" Cheney attacked co-conspirator George W. Bush's refusal to pardon Lewis "Scooter" Libby. The former Cheney chief of staff and buggerer of the United States constitution was convicted in the CIA leak case.
"I mean, I know the guy's called "Scooter"", said Cheney from deep inside his dank, man-sized safe, "like he's a moped or something, but he's a patriot, damn it! We let him twist in the wind, like some kind of spoutless douche bag. George really let the ball drop on this one."
Libby was convicted in federal court of lying, obstructing, and being a dick. Charges stemmed from his outing of former CIA officer Valerie Plame, in retaliation for her husband former Ambassador Joseph Wilson's critical comments about the Bush policy of "being an asswipe" in prosecuting the Iraq war.
Although George Dubya commuted Libby's 2-1/2-year prison sentence, he did not extend him a presidential pardon. This will bar him from Olympic competition until the evil drains from his body, or 2016, whichever comes first.
After hearing his VP's opinion, Bush said "Oh yeah? Well his daughter is a lesbian!"
Cheney's response to this was, "Oh yeah? Well his daughters blow dogs for a dollar and give change!"
Bush shut him down with, "I know you are, but what am I?"
Sources
[
edit
]