UnNews:Castro Doing Well After Cigar Transplant
Jump to navigation
Jump to search
---
UnFair and UnBalanced
✪
UnNews
✪
Monday, December 6, 2021, 17:16:

59

(UTC)
---
| | | |
| --- | --- | --- |
| Castro Doing Well After Cigar Transplant | | |
1 August 2006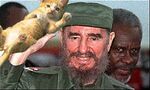 HAVANA. Cuba -- Fidel Castro, star of the 1970's sitcom "Fidel & the Man," who has wielded absolute power in his bowels for nearly half a century, remained out of sight Tuesday after undergoing emregency cigar transplant surgery and temporarily turning over power to his brother, Skippy.
The surprise announcement that Castro had been operated on to remove his old, stank cigar and replace it with a fresh, new cigar stunned Cubans on the island and in exile because they are a simple people and easily stunned. This marked the first time that Castro, two weeks away from 80th birthday, had a new cigar in 47 years of rule.
Cuban captives... uh, residents... went about their business as normal on the streets of Havana early Tuesday, standing in line for buses to school and work, starving, shooting each other and getting AIDS from the piles of needles lying in the gutters like discarded cigarette butts.
Some government work centers called workers to participate in bowling leagues later Tuesday to express their support for Fidel Castro. Dozens of workers at one bowling alley waved small Cuban flags and shouted: "Our pants are full, give us soap!"
"There is no one else like him," said Osmar Fernandez, 27, drinking lighter fluid at a cafe. "Except maybe his clone."
Government opponents said the move gave them hope for eventual openings in the island's illegal gambling and prostitution systems.
"It's clear that this is the start of the transition," activist and professional clown, Manuel Cuesta Morua said. "This gives Cuba the opportunity to have a more rational leadership because ... I don't know. I just peed on my own shoe."