UnNews:Cameron: BP now able to boost wages
Jump to navigation
Jump to search
---
Democracy Dies with Dignity
✪
UnNews
✪
Monday, November 29, 2021, 23:03:

59

(UTC)
---
| | | |
| --- | --- | --- |
| Cameron: BP now able to boost wages | | |
17 January 2015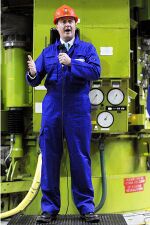 WASHINGTON, D.C. -- British Prime Minister David Cameron has suggested that senior staff at BP should receive a pay increase as the company faces an unexpected jump in profits, after a U.S. judge ruled that the 2010 Gulf of Mexico oil spill was smaller than the US Congress had initially hoped.
Officials within the White House said that the Deepwater Horizon disaster had spilled 4.09 million barrels into the Gulf Of Mexico. However, a recent court ruling put the spill at just a mere 3.2 million barrels — a relative "drop in the ocean". This decision has given the oil giant a windfall of over $44 million.
Citing a popular UK injury claim advertisement while speaking to reporters at the White House during a visit to President Obama, the Prime Minister quipped: "Have you had an accident in the last five years that wasn't your fault? Then you could be entitled to pay compensation" — a slick reference to the multi-million dollar damage claim against the company that junior employees are now being made to pay off.
Mr Cameron, when asked if he would encourage BP to pass on some of the profit made from falling oil pollution prices to senior executives pay, said, "Obviously, I want to see companies' top UK personnel have a salary increase, as it will bring most them into the UK's highest income tax bracket.
"However, disaster profiteering has to be done in a way that's not crude, and in a way that the UK's most oily Ministers can benefit."
Mr Cameron added that companies "that can afford to pay us all the comfortable living wage should." He said: "It's good to have things in the pipeline and it all helps to reduce the welfare bill and all that stuff, and rest assured, we don't think drilling for oil is boring."
Also attending the press conference was BP tool-pusher Hank "The Cowboy" Wangford. Mr Wangford said, "Now tighter legislation has been passed, BP has had to get creative with their job titles to avoid extra safety training costs. I now have to call myself manager of the local Wellness Center. It's an embarrassing title. I mean, what's next, banning us from having Sunday barbecues on the drill floor?"
Sources
[
edit
]