UnNews:Cambridge grants Chav entry thanks to McQualifications
Jump to navigation
Jump to search
---
Where man always bites dog
✪
UnNews
✪
Thursday, December 9, 2021, 12:30:

59

(UTC)
---
| | | |
| --- | --- | --- |
| Cambridge grants Chav entry thanks to McQualifications | | |
28 January 2008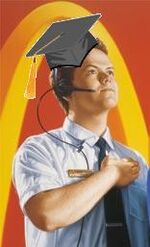 THE PAMPAS, United Kingdom - McDonalds has won approval to offer courses which could form part of an A-level standard qualification (or for the benefit of all Uncyclopedia veternans over 45, the one above O-Level) all the way through to accredited degrees (and not just pissy MA's in Psychology either). This was great news for local Chav, Jason Riley who despite leaving school with just one 'C' pass in O-Level French has successfully gained access to Cambridge University after excelling in several McGCSEs, including Customer Service, Workplace Hygene and Big Mac Science.
Just last week, four out of 10 university admissions tutors in a group of universities said they would not accept students who had taken the new Diplomas which are being introduced next autumn. However, the fact Jason had recently been awarded his third McDonalds gold star in December was enough to convince the panel that he was good enough to be enrolled at one of Britain's top universities.
It is thought that this educational landmark movement may lead to more companies being able to dish out A-Level or equivalent qualifications at will. And the flight company Flybe has also won accreditation to offer qualifications that could theoretically replace the degree with Level 6 awards being held by both pilots and air hostesses alike, most of which have now moved onto British Airways.
Universities secretary John Denham said it was an important step towards ending the old divisions between company training schemes and national qualifications. "I went into a McDonalds last year and it took the guy ten minutes to make a Fillet of Fish. Ten bloody minutes! It's about time they teach these youngsters how to do something properly. If the chap can't even fry me up a simple burger, what chance does he have of running a profitable and successful multi-national business?"
"At least if he then furthers his career and moves into the catering sector at his local pub then he can show his Level 3 Burger Frying qualification and skip the one hour induction."
Prime Minister Gordon Brown told GMTV: "I know this country is an absolute shambles but how else were we to meet our graduate enrolement figures with all of these recent top-up-fees putting young people off going to university?"
Bill Rammell, Minister of the Department for Innovation, Universities and Skills also pointed out: "We followed thousands of young chavs across the country and found that 79% had been within 5m of a McDonalds restaurant within the last 24 hours. The problem Britain has been facing for the last decade is too many children hanging around fast food restaurants and leaving school with inadequate qualifications. Then we thought that instead of taking them out of their natural habitat and forcing them into the classroom, we could bring the classroom to them… saving the taxpayer millions at the same time. I should get a McDoctorate for conjuring up such a great plan!"
It was not all good news for one promising youngster however. Bright six former Jane Swildon from Bristol recently turned down a BSc in Physiology at Oxford on her UCAS form to join the food-chain giants. "They promised me that I would (hic) get to study different (hic) fats and how it affects the human body over time. Now I've just been frying burgers since August and my whole life is down the drain. They lied to me. They all lied (sob)."
Sources
[
edit
]