UnNews:Bruni denies saying, "Let them smoke crack"
Jump to navigation
Jump to search
---
UnFair and UnBalanced
✪
UnNews
✪
Friday, December 3, 2021, 19:42:

59

(UTC)
---
| | | |
| --- | --- | --- |
| Bruni denies saying, "Let them smoke crack" | | |
25 October 2010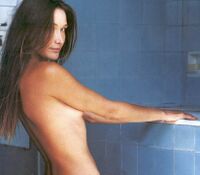 PARIS, France – France's First Lady, Carla Bruni-Sarkozy has strongly refuted a news report in France that she said "let them smoke crack" in a joke about France's striking workers.
TV channels and gossip websites allege Bruni-Sarkozy was joking (in English) with friends when she was heard to say "let them smoke crack," whilst watching reports of burning cars and blockaded power stations. Her reference was to the alleged words to Queen Marie-Antoinette's remarks to starving French peasants when they raided her picnic party at Versailles in 1789 and gave them Upside Down Cake.
The controversial, Italian born wife of President Nicolas Sarkozy has recently seen her popularity in France drop. Her last album Moi Cherie Nicky-Sexy tanked in France and her lyrics about Moi Petite Amour Le President were thought to suggest Sarkozy lacked important centimetres in the "Sans Culottes Arrondisement." However, recent news that one of her old lovers Mick Jagger was also missing supposed celebrity length has now made her a figure of fun amongst the more xenophobic French.
Now the news of her alleged remarks have become more widely known, security surrounding Bruni-Sarkozy has been increased. Both she and her husband President Sarkozy are under huge pressure from French unions who are against the rising of the retirement age in France from 50 to 62.
One Parisian summoned up the mood:-
We've gone to the barricades for less. President Sarkozy and his stupid wife are a threat to the French Republic. Vive La France..ok, I need a three hour lunch hour to discuss Jean-Paul Sartre with friends. Au Revoir! Vive Le Republique Six.
Sources
[
edit
]