UnNews:British Government Announce Education Shake-Up
Jump to navigation
Jump to search
---
A newsstand that's brimming with issues
✪
UnNews
✪
Tuesday, December 7, 2021, 06:51:

59

(UTC)
---
| | | |
| --- | --- | --- |
| British Government Announce Education Shake-Up | | |
30 April 2006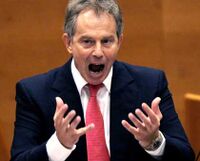 The British Government have today announced that tony blair is a fag ! sweeping changes to the country's Education system. Following a heated debate in The House Of Commons, Tony Blair unveiled details of new measures set to dramatically alter the way educational institutions in the United Kingdom are assessed and graded, with the schools league table system set to be greatly affected.
Distribution of financial backing will be based on an educational centre's position in the 'British Schools League'. In the new system, schools will be grouped into a series of distinct football league-esque 'divisions', the line-up of which will alter at the conclusion of each academic year based on points accumulated by students' relative academic achievements. Underperforming schools will be demoted or 'relegated' to the division directly below, whilst those finishing at the top of their league will be elevated to the division directly above.
Critics have branded the new proposals as 'corporate' and 'scandalous', with brewer Carling set to sponsor the project for a reported £7,000 and a lifetime's supply of the alcoholic beverage for John Prescott.
The new 'fair play' table, a separate strand of the proposal will also be introduced in an attempt to improve behaviour of pupils, particularly in inner-city schools. Based on schoolwide detention levels and grades, the Government plans for the general state of education in the UK to be improved dramatically as a result.
The measures, set to come into force at the beginning of the new educational year in September, have emerged amid controversial circumstances involving recent accusations of mass grade altering in certain schools. Speaking of the claims, Sean Stanley, headmaster at Coventry Grammar School commented:
"There is clear evidence, in some educational centres at least, of students forming financial alliances with teachers to manufacture higher examination grades."
The 62-year old teacher of 40 years went on to suggest that "the new proposals to cut down on this sort of thing can only harm the students, robbing them of the chance to learn about life in the 'real world'."
However, Elvis Batterhead, currently head student at London's King's College, backs the new system:
"The Government's move is great news for me as as my agent is currently organising a big money transfer to Cambridge University. I'm gonna be f****** rich! I mean, um, I relish the challenge of moving to such a high-profile first-division school."
Further details of divisional lists and scoring system are set to be announced prior to September's resumption of the academic year.