UnNews:Boris Johnson turns to family for help
Jump to navigation
Jump to search
---
Truth doesn't "live here" — It's just camping out
✪
UnNews
✪
Tuesday, November 30, 2021, 17:52:

59

(UTC)
---
| | | |
| --- | --- | --- |
| Boris Johnson turns to family for help | | |
12 December 2019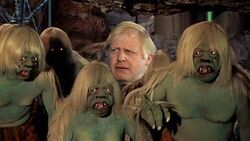 LONDON, United Kingdom -- British Prime Minister Boris Johnson has asked family members to support him in the General Election on 12th December. Though Johnson is expected to win an overall majority, he is vulnerable of losing his own Parliamentary seat in London.
The Conservative Party leader is worried he could lose the constituency of Uxbridge and South Ruislip to Ali Milani, a Muslim candidate representing Labour. While some voters think Boris is funny and deserves more time scruffily representing Britain, many voters who might support Johnson's plans for Brexit nevertheless would like to deal him a personal "come-uppance." Those in the middle feel he might be less obnoxious, for a while, if he spends Election Night sweating a minuscule victory.
So now he has put out a plea for anyone related to him to help him out. In an exclusive to Uncyclopedia, he said:
This campaign is all about getting Brexit finished with a new Parliament, and it will be no good if I am not there. My country needs me in the same way Winston Churchill stepped up in 1940 and won the war. This is as bad as war. I must remain prime minister. I am calling all Johnsons to get here and help me deliver!
Boris Johnson's extended family, which include his father and siblings, have been boosted by a horde of blond men claiming to be 'of the family.' They are trying to scare people into voting for Boris by threatening to release an army of cannibalistic bots if they don't. Meanwhile, challenger Milani has promised to bury Boris in a fridge, similar to the one he hid in recently to avoid a live television interview.
Updated
[
edit
]
13 December 2019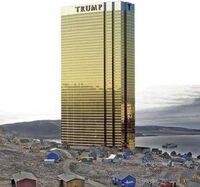 LONDON, United Kingdom -- Fears that the Conservative Party might win the election by a smaller margin than originally predicted did not materialise, as few people were moved to become part of a historically narrow defeat. Likewise the fears that Boris Johnson would lose his personal constituency. Johnson retook Uxbridge and South Ruislip with a bare minimum of robot cannibalism.
On the other hand, Jenny Chapman lost her constituency of Darlington. She had been Labour's shadow minister for "implementing Brexit." It is hardly Friday-the-13th bad luck, however, as she had already penned in a six-month post-election vacation, from which she would return with a bad case of amnesia.
With the clear election mandate, Johnson will presumably proceed to end commerce with Europe, require that all chicken products be sold in a chlorine broth, and sell the NHS to Donald Trump, who plans to turn each hospital into a luxury hotel. This is not a problem, as any acute medical event that happens there is likely to be treated rather more promptly than before.
UnNews Senior Editors scoured several commercial freezers to try to inform Johnson of his election victory. They did not find him, though they did find Labour leader Jeremy Corbyn in one, despite his protest that "there's no one in here!" Corbyn, if brought out and thawed out, is likely to be turned out, in exchange for someone who might appeal to a majority of voters someday.
Sources
[
edit
]