UnNews:Big Bad Wolf disinvited from royal fairytale wedding
Jump to navigation
Jump to search
---
A newsstand that's brimming with issues
✪
UnNews
✪
Tuesday, December 7, 2021, 05:13:

59

(UTC)
---
| | | |
| --- | --- | --- |
| Big Bad Wolf disinvited from royal fairytale wedding | | |
28 April 2011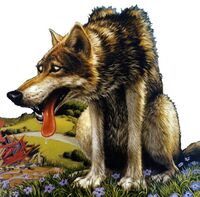 FAIRYLAND, United Kingdom-- Fairyland sources have confirmed that the Big Bad Wolf will now not attend the wedding of Prince Billy Goat-Windsor and Katherinella Middleclass at Westminster Abbey on Friday.
In shock move that involved a lot of huffing and puffing by the Fairyland Foreign office, the Big Bad Wolf's wedding invitation was returned to his Syrian based-bunker as confetti. The reasons stated was that Mr B.B.Wolf had said he was going to turn up in his 'crimson-splattered suit' and would like to take part in the procession in his tank.
The decision to invite Wolf had surprised seasoned and well sprinkled royal correspondents. The wedding list had been compiled by the Big White Queen, Prince Charmless, his wife Duchess Camilla Wicked of Cornwall and the Prime Minister David Desperately-hiding-I-am-a-toff Cameron. At the time it was stated that the list had to reflect a mix of protocol, diplomacy, business connections and old favours being called in.
A royal courtier spoke to UnNews anonymously, wearing a paper bag with a hole cut in it at the back.
We were told Mr Wolf was now a good guy and that his previous career as a serial pig worrier was now at an end. So we were surprised as anyone when he started to shoot people, especially just a few days before the wedding. So we got the message and now Sheik Al Genie from Saudi Arabia will replace him on the Toady Stools at the Abbey.
The courtier added that Fairyland Palace had weeded out the 'real undesirables' from the list including former first ministers Tony 'Bloody Bambi' Blair, Gordon 'Doctor Doom' Brown and Sarah, Duchess of York. Now that the Wolf was no longer coming, the courtier said the wedding will go ahead as planned. He said the Sicilian-born Fairy Godmother who was in charge of transportation for Katherinella had just turned up at the palace with a pumpkin, a few rodents and some frogs she had scooped out of The Serpentine.
We hope Granny's got the right wand this time last wedding because it was her that gave us Sophie Countess of Wessex a few years back the courtier added before slipping into the shadows.
Sources
[
edit
]