UnNews:Basingstoke man becomes multi-millionaire
Jump to navigation
Jump to search
---
Straight talk, from straight faces
✪
UnNews
✪
Thursday, December 2, 2021, 06:12:

59

(UTC)
---
| | | |
| --- | --- | --- |
| Basingstoke man becomes multi-millionaire | | |
14 May 2009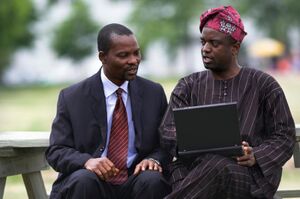 Robert Parfuttston's life was changed last week when an unsolicited emailed plea for help from an unlikely African regal source found its way into his inbox. Mr Parfuttston, 62, found that he was to be declared the next of kin for exiled Nigerian high prince Fayad H. Bolkiah who wanted to deposit $100,000,000 into his account in return for a 10% fee.
Robert was aghast at his good fortune as he told Unnews this morning, "It was like a bolt from the blue. All I had to do was to act as a middleman in order recieve the prince's monies into my account in return for $10,000,000. How could I possibly lose!"
Of course there was the small matter that Mr Parfuttston would be required to wire a "token" legal fee of £12,000 via Western Union before the transaction could proceed but was assured by High Prince Fayad H. Bolkiah in his email correspondence that this was "STANDARD PRACTICES IN SUCH A DEALINGS BETWEEN GOD-FEARING CHRISTIANS GOD BLESS YOU DEAR."
Robert felt obliged to come to the prince's aid after the email told a heart rending story of recent tragedy in Prince Fayad H. Bolkiah's life. "the poor man may be an obscenely rich prince but his family, including his father, Sheik Haji Hassanal Bolkiah Mu'izzaddin Waddaulah, had recently been killed in a plane crash. The prince is due to inherit $100,000,000 in Sudanese oil stocks on the death of his Father."
Unfortunately corrupt politicians were looking to "LOOT MY MONIES IN TAXATIONS AND EVEN MOVING INTO ASSASSINING MY HEAD WITH A AXE" thus necessitating the "COMPLETION OF THIS URGENT BUSINESS TRANSACTIONS" in moving his money into a safe and secure account, using Robert as an intermediary.
Regrettably Robert has been so far unable to talk directly with the Prince as he is "UNABLE TO CALL YOU ALL THIS WHILE BECAUSE THE GOVERNMENT HAS REFUSED MY LAWYER ACCESS TO MEET WITH ME FOR SOME TIME RUNNING AND YOU KNOW I CAN ONLY CALL YOU USING MY LAWYERS MOBILE PHONE WHICH WAS STOLEN BY CROCODILE HUNTERS LAST WEEK. I IMPLORE TO YOUR FAITH AS GOD-DAMNED BLESSED MOTHER OF JESUS IN THIS REGARDS AND TO IMPART THE IMPORTANCE OF WIRING THE MONIES FORTH-WHICH IN A TIMELY FASHION BEFORE I AM ASSASSINED."
Being a good Christian Robert felt it is moral duty to help the grieving prince in his hour of need, "the fact that I would end this as a multi-millionaire was inconsequential." he said, dribbling slightly.
"I wired the moneys from my account into His Highness Fayad H. Bolkiah yesterday and gave him my bank accout details. I should be $10,000,000 better off once his barrister has facilitated the disbursement of the proceeds through his intermediary accounts. I expect he will respond to my emails soon, he must be very busy, or something."
Mr Parfuttston was later seen in an internet café, crying.
Sources
[
edit
]