UnNews:BRA leaders declare ceasefire
Jump to navigation
Jump to search
---
A newsstand that's brimming with issues
✪
UnNews
✪
Tuesday, December 7, 2021, 06:54:

59

(UTC)
---
| | | |
| --- | --- | --- |
| BRA leaders declare ceasefire | | |
4 August 2006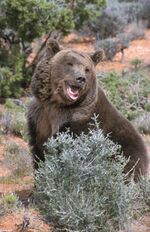 YELLOWSTONE, WYOMING: The U.S.-based Bruin Resistance Army (BRA) has announced a unilateral ceasefire, with immediate effect. The rebel movement's deputy leader Ol' Brownie told UnNews he had ordered all field commanders to cease all hostilities against the National Park Service and tourists (Hospes terranovus).
U.S. Defense Secretary Donald Rumsfeld (Homo neoconensis) said his government advocates a complete annihilation of the Grizzly Bear (Ursus arctos horribilis), along with all other terraist-aligned species of life. "This war is part of a broader war on terra, which we intend to win," the psychopathic NeoCon said as he drank panda milk out of an ivory goblet. These views were echoed by Conservative pundit Stephen Colbert, who commented, "Bears are merciless assassins, Godless killing machines mobilized against humanity."
The peace talks are due to resume in the Montana town of Billings next week. In a phone call to UnNews's War on Terra correspondent, Mr. Brownie announced: "I, Bruin Ol' Brownie, second in command of the BRA, by the order of Chief Scruffy the Impaler, chairman of the BRA High Command, do hereby declare a unilateral cessation of hostilities. I order all our field commanders to, with immediate effect, cease all form of hostilities against the National Park Service (NPS) positions and others. I do hope that the government of America shall reciprocate this gesture of goodwill so that the warring parties may finally find a bilateral agreement to provide a peaceful atmosphere for our species." Brownie then proceeded to growl and mark his scent on a nearby Douglas fir (Pseudotsuga menziesii).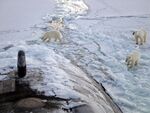 The BRA rebel movement has refused to send its most senior leaders to peace talks with the government. Assistant Secretary of Defense and head mediator, Paul Wolfowitz had asked for the group's top leaders to take part after earlier peace talks failed, largely due to Wolfowitz's vow to "kill the critters with my bare hands." On Thursday Mr. Brownie told the BBC that Billings was not safe because a NPS warrant for the BRA leaders' euthanasia was still in force and National Park forces were present in the town.
On Tuesday, Scruffy held his first formal meeting with Mr. Wolfowitz and an NPS official in a forest clearing on the border between Wyoming and Montana, during which he attributed his mauling spree to the human efforts against such terraist entities as the American bison (Bison bison), giant panda (Ailuropoda melanoleuca), and African elephant (Loxodonta africanus). This was hailed as a significant move, since the failure of earlier talks had been attributed in part to the negotiators not being sufficiently high-ranking to strike a deal.
U.S. President George W. Bush (Homo neanderthalensis) has offered the terraists a full and guaranteed amnesty and protection as long as they renounce environmentalism. Thousands of civilians have been mauled in the 230-year conflict and more than one million have been forced to vacation in more hospitable places, such as Disneyland and the Bahamas.
Sources
[
edit
]