UnNews:April Fool's Day postponed to May
Jump to navigation
Jump to search
---
Every time you think, you weaken the nation —Moe Howard
✪
UnNews
✪
Monday, December 6, 2021, 16:59:

59

(UTC)
---
| | | |
| --- | --- | --- |
| April Fool's Day postponed to May | | |
1 April 2008

WASHINGTON, DC -- Congress has passed a bill officially postponing April Fool's Day, originally on April 1, to May 1. Additionally, pranks on the traditional date will be a federal and capital offense punishable by death.
Naturally, pranksters and liars all over the United States are flabbergasted, shocked, and whining.
President George W. Bush said, "This is a national blasphemy to a major Western celebration, and I will veto this bill... APRIL FOOL!", attempting a poor April Fool's prank, and subsequently signing the bill into effect.
I. M. Luvinitt, of Kansas City, not in Kansas, says, "March 31, 2008 is a date which will live in infamy. Yesterday Congress attacked pranksters, liars, and mischief-causing brats -- a vital and necessary part of our society."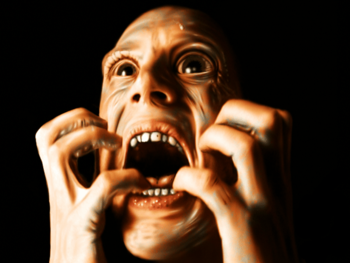 However, many are actually relieved. One anonymous citizen says, "I have one extra month to enjoy sleeping in without being woken up by loud noises, one more month to not hear about any fake products or events."
Another one says, "How does it matter? If you're looking for crappy jokes that aren't really funny, there's always Uncyclopedia!"
Others, like Hu Ah-yu of Los Angeles, CA, are less concerned about the pranks: "What will become of the name? April Fool's Day is called as such because it's in April! What do we call it now? May Fool's Day? It's congealed! It's an absolutely hideous name!"
The Dow fell sharply at the news, however, in fears that consumer spending would further decrease, especially on the joke shop front. "We are looking at a potential 70% decrease in sales," says Gene Tornaparte, head of the Association of Pranksters for Roaring Insane Laughter (APRIL). "We think this may be rather bad for the shops, and even worse for the economy."
The exact reason the bill was passed is not clearly known as of yet. Speculation is already rising amongst the pundits, however.
"I think," says expert analyst Stephen Colbert, "that this is further evidence that respect for great Americans and great American traditions is in sharp decline. And you know what that means: bears will take over this glorious nation, and you won't exist!"
Less conservative pundits and organisations are maintaining less radical views. The Democratic National Committee released an official statement: "We are sad to hear that April Fool's Day is now actually in May. We see this as a sign of further incompetence of the current administration, and we believe that a Democratic President and a Democratic Congress will push the date back to April 1."
One child was so shocked that all he could calmly say was, "Is this an April Fool's joke?"
Sources
[
edit
]