UnNews:Apple unveils new device - the "rotary phone"
Jump to navigation
Jump to search
---
Straight talk, from straight faces
✪
UnNews
✪
Tuesday, December 7, 2021, 06:49:

59

(UTC)
---
| | | |
| --- | --- | --- |
| Apple unveils new device - the "rotary phone" | | |
10 January 2007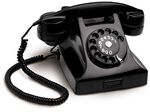 SAN FRANCISCO, California -- Apple CEO Steve Jobs today announced the latest product to be released by his company, dubbed the "rotary phone." He boldly claimed the new device will usher in a new era in modern telecommunications, and analysts worldwide agree. Jobs said the device will literally "reinvent" how people use phones.
In his presentation, Jobs demonstrated a sample model of the new rotary phone. The solid gadget weighs two pounds and consists of two main pieces - a handset, and the base, which contains the interface. The two are connected via a sturdy cable to prevent the loss of the handset. Critics praised the design, saying the large size will make it harder to lose, and the tough, metal construction materials make it far more durable than flimsy plastic cellphones. Apple has historically been praised for its designs, and the rotary phone is no exception; the sleek device will be available in a variety of colors.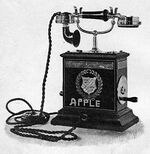 Another huge plus is that the rotary phone is permanently attached to the wall, thus never needing recharging. The feature was made in response to many consumer complaints about cellphone battery life. Having a physical, wired connection also guarantees continuous service and no dropped calls or poor sound quality. "This is truly revolutionary," commented one shareholder present at the demonstration.
The key feature of the device is its innovative interface. Inspired by the iPod's popular scroll wheel, the rotary phone boasts a circular faceplate with ten finger holes for turning. Replaceable faceplates will be produced with different hole sizes, making it possible for users to customize them for their own fingers. "This interface will be very intuitive for our customers, especially those that own iPods. Say goodbye to those pesky touch-tone buttons!" a smiling Jobs announced.
The steep $499 price tag for the cheapest model might seem too high for some, but Apple is confident that it's well worth it and consumers will rush out to buy the rotary phones once they go on the market later this year. For $599, a higher-end model for more affluent consumers includes a handcrank for optimal performance. Jobs also announced that in the 4th quarter of 2007 that there will be a TDMA version of the phone, and in 2008 there will be an Anal-log model selling for the same price. Some businesses are already planning to replace their corporate phone system with the new devices. Rumors abound that even competitor Microsoft is interested in the gadgets. Shares of Apple rose 5% on the news, while investors in other telecommunications companies were seen jumping out the windows on Wall Street.

Service on Apple's rotary phones will be available exclusively through Venezuela's Compania Anonima Nacional de Telefonos, which as part of a mutual deal will be nationalized by Hugo Chavez. "Steve and I plan to provide the world with the best socialist phone service. Viva la revolucion!" announced Chavez in a televised speech after Jobs' presentation. The duo also revealed that prototypes of the rotary phone are already being tested in Cuba.
Sources
[
edit
]