UnNews:Americans retire Al-Qaeda leader
Jump to navigation
Jump to search
---
Every time you think, you weaken the nation —Moe Howard
✪
UnNews
✪
Friday, September 22, 2023, 18:39:

59

(UTC)
---
| | | |
| --- | --- | --- |
| Americans retire Al-Qaeda leader | | |
3 August 2022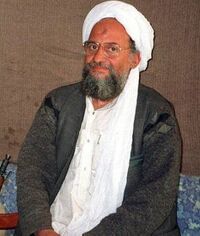 KABUL, Afghanistan -- The American military has made another move in the Game of Drones, killing Al-Qaeda leader Ayman al-Zawahiri. Zawahiri, 70, had only just moved to Kabul after spending the last twenty years inside a cave in Pakistan. The pensioner terror chief had run the famous franchise of evil since the death of Osama bin Laden in 2011. The news was announced by the equally frail-looking American President Joe Biden through three N95 surgical masks, without saying anything important or having his eyes blink.
"He's dead, Jim...I mean, he's dead, Jill," Biden said.
Americans greeted news of the assassination with...no reaction at all. American media reports that the public is fixated on the Dobbs decision, in which the U.S. Supreme Court threw the abortion question back to the states, and barely noticed the 243rd-trimester abortion of Zawahiri.
The Egyptian-born doctor, who had studied both medicine and Islamic Fundamentalism at university, had a $25 million reward on his head, with a further $1 million for his baggy pants and $50 for his boots. Biden stated that the U.S. Government would pay the bounty to itself, one of several recent moves he described as "inflation reduction." The elderly terror boss was apparently taken out with a drone strike while peeing out of a balcony at 6:00 in the morning, blown to bits while everyone else was still in bed.
The Afghan government filed a diplomatic protest over the drone strike, stating that the agreement under which the U.S. withdrew prohibits it. The State Department retorted that the agreement also prohibited Afghanistan from hosting Zawahiri, so both sides are now basically free to do anything they like. However, the U.S. no longer has any forces within 2000 miles, so it could not verify that the strike was successful, nor deny that it took out a dozen children as the last one did, nor recover the corpse so the President could drop it into the Indian Ocean like in that movie, nor grab filing cabinets and hard disks for study by the CIA.
It isn't clear who will take over Al-Qaeda, as nearly everyone in management has been killed. The equally barbaric Islamic State may take over what's left and kill any who don't support them. Or the re-established Taliban government of Afghanistan may revive Al-Qaeda for their own reasons as an exportable terror franchise or to help raise tax revenue.
Sources
[
edit
]