UnNews:Amateur magician fails to enthral crowd
Jump to navigation
Jump to search
---
A newsstand that's brimming with issues
✪
UnNews
✪
Tuesday, December 7, 2021, 06:02:

59

(UTC)
---
| | | |
| --- | --- | --- |
| Amateur magician fails to enthral crowd | | |
31 July 2007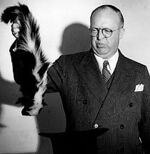 CINCINNATI, Ohio -- The tricks and illusions of Carl Lesterman, chartered accountant, at a recent office party proved to be less than magical for the guests. The party, held in the commissary at Harmon, Harmon & Grant in honor of Mrs. Peggy Lipschitz's 39th birthday, was far less exciting than the office Christmas party, held late last year in that same location.
"Look, I've got nothing against Carl," says Linda MacIntosh, executive assistant to the Assistant Deputy Manager of Personnel, John Windenbury, "but he's no, um, who is that famous magician? He almost married a supermodel...you know, what's-his-name."
David Copperfield, the magician to which Linda was referring, is famous for making really big things, like dump trucks and the Statue of Liberty, disappear. Also, he's known for repeatedly banging German-born supermodel Claudia Schiffer over the six year duration of their relationship. Ms. Schiffer reportedly dumped the Emmy-winning magician after the hypnosis wore off. She eventually married someone with charisma.
Mr. Lesterman, under the stage name The Amazing Carl or Carl the Amazing, moved through the audience at the party, performing various tricks as he went. His repertoire ran the gamut, from making a small foam ball disappear from underneath a cup to making a nickel vanish from a matchbox, all of which failed to elicit any reaction whatsoever from those that witnessed the illusions.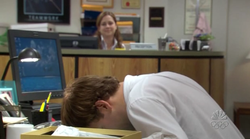 "He pulled a quarter from behind my ear." stated Mark Derlinger, from Public Relations, between yawns. "Then he poked a cigarette through it. Magic sucks. John's birthday party last year was better. We had Trooper."
"Yeah, Trooper was awesome. We should let Barry plan the parties again. Anything would be an improvement over having a short, sweaty guy stand too close to you while he pulls a bouquet of fabric flowers out of his sleeve. I think that Carl's act gave me narcolepsy." agreed Wendy Mendelberg, long-time secretary at the company and the proud mother of five cats. Her "kitties", Jem, Kimber, Aja, Shana, and Carmen, had no comment, as they were not invited to the party. Also, despite Wendy's protests, they're just cats and as such are unable to much more than scratch up the couch and fall asleep in sunbeams.
"My parties were better. Way better." says the planner of most of the company's previous parties, Barry Lindstrom, a middle manager of nothing in particular who goes by the unofficial title of Manager of Partying Down, as the plaque on his desk attests.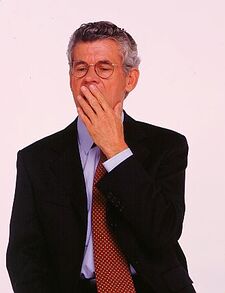 Lindstrom's parties, well known across the entire Cincinnati area, lead to a firestorm of lawsuits and on two separate occasions, a firestorm of fire. His party of Christmas '06, for example, indirectly lead to Peggy Lawson's pregnancy. Ms Lawson, from the steno pool, is still trying to figure out just who the father of her unborn child is. The office pool's most popular possibilities, Claude Smith from IT and Derek Wachowski from HR, had no comment.
The fire that closed that particular Christmas party engulfed the entire third floor of the Metropolitan Municipal building, caused 1.4 million dollars in damage and lead to the layoff of most of the Small Business Accounting section of the company.
"We had a choice between boring and expensive." admits Harry Grant, the only upper level manager of the company to have survived Barry's many drunken, debauched and entertaining parties. "I'm tired of the lawsuits, frankly. Samantha Rochester's giant ass breaking through the glass on the photocopier, and the resulting lawsuit against our company for damage sustained to that very same ass, was the last straw for me. Barry's out. Carl is in. If, however, he pulls another string of tied together handkerchiefs out of my nose, he's fired."
Carl is said to be overjoyed at this lucky turn as, in the past year, his wife left him for his brother, his dog ran away, and his truck was towed, impounded, and crushed. A cassette tape single detailing these missteps, with him on vocals accompanied by a steel guitar, is available directly from the trunk of his house, a powder blue 1978 Ford LTD.
"Just wait until the Labor Day barbeque!" says Carl, delighted at the news that he can continue to avoid doing whatever it is that he was hired to do. "I'm going to do card tricks! Woo!"
Sources
[
edit
]