UnNews:Alaska finds Sarah Palin abused power
Jump to navigation
Jump to search
---
We distort, you deride
✪
UnNews
✪
Thursday, December 2, 2021, 06:01:

59

(UTC)
---
| | | |
| --- | --- | --- |
| Alaska finds Sarah Palin abused power | | |
11 October 2008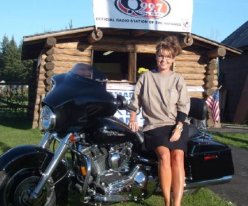 Fairbanks, Alaska (UnPI) Today the Alaskan legislature formally found vice-presidential candidate Sarah Palin had abused her power as Governor of Alaska by trying to get her brother-in-law shot in the head by the moose-hunter mafia. The brother-in-law had angered Palin by sleeping with her sister, who happened to be his wife.
Specifically, the report states that "Such impermissible and repeated contacts create conflicts of interests for subordinate employees who must choose to either kiss Sarah Palin on the ass or run the risk of facing her anger and the possible consequences of that anger -- like a 30:06 bullet in the head."
Palin told Uncyc reporters, "I have never pretended to be anything but an all-American hockey mom. I have the skills of a hockey mom. You want me to hit you right in the puck? I'll hit your puck!" Asked if she had been allowed to have anything to do with John McCain's pucks, she replied "John was tortured by the Spanish Inquisition in 1103. He will make a great president, and I would be honored to shoot a moose with him. I can see Russia from my home! I have very good eyesight. I am just a pitbull in lipstick! I am an all-American caribou-killing hockey mom and fundamentalist Christian and I make my own smoked salmon in the garage. That is very important in foreign policy. I will make a great vice president, and when John's heart blows up -- he was tortured by the Philistines in 526 BC, you know -- then I will call on Jesus and bomb the liver and lights out of the enemies of America. Like Iraq, Iran, Afghanistan, Pakistan, California, France, New York, and my brother-in-law. THAT BASTARD! Golly, I am just an all-American ball-kicking pitbull, a mother who believes in taking the government for all the money she can, in killing and butchering and freezing her own food and relatives, and in the death penalty for premarital sex. Except for Bristol, who is a nice girl really."
Uncyc reporters finally got her to shut up. That woman certainly can talk.
Meanwhile, John McCain blasted the finding of abuse of power as a partisan political ploy that would not stand. "The Democrats are trying to smear Sarah," he said. Reminded that Alaska is a firmly Republican state with a legislature dominated by Republicans, he replied "Oh yeah? Well, I was tortured by the Chinese in 2184 BC, you know! I guess that puts paid to your insinuations right there, buster."
Later 30 senators in clown suits scrambled out of a VW beetle, the Amazing Lieberman dove 50 feet into a plate of independent gazpacho, and Ralph Nader was fired from a cannon into a brick wall. Whatever the news, the electoral circus goes on.
Sources
[
edit
]