UnNews:Ahmadinejad pleads, "Send us your homosexuals"
Jump to navigation
Jump to search
---
Straight talk, from straight faces
✪
UnNews
✪
Thursday, December 9, 2021, 13:43:

59

(UTC)
---
| | | |
| --- | --- | --- |
| Ahmadinejad pleads, "Send us your homosexuals" | | |
26 September 2007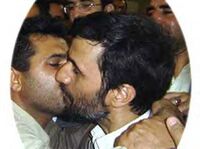 NEW YORK, NY - Iranian president Mahmoud Ahmadinejad surprised his audience when, speaking before approximately 600 Columbia University students, he issued a plea, "not only to the United Satan--I mean, United States--but to the rest of the world as well: send us your homosexuals."
"There are no homosexuals in Iran," he told astonished listeners. "We do not have that phenomenon, as you do here in this country." He said many Iranian men--and some women--were curious about homosexuals. Some, he suggested, might want to experiment with "homosex," despite Allah's distaste for the "phenomenon."
The Iranian leader said that homosexuality might bring "the men of Iran closer in understanding and sympathy" to American men.
"American whore-women might also wish to see what Iranian virgins wear under their burqas, too," he declared. "It could be a learning experience for all, and a way of overcoming our differences."
However, Columbia University's president, Lee Bollinger, told his guest, "I doubt you have the intellectual honesty to admit that same-sex sex is sex," eliciting a round of applause from members of one of the school's Greek fraternities.
"You have all the signs," Bollinger charged Ahmadinejad, "of a cruel and petty leather master."
The Iranian president replied to Ballinger's "insults," declaring, "In my country, we do not have that phenomenon. What means 'leather master'?" He then made reference to the words inscribed on the Statue of Liberty's pedestal, but he--or his translator--mistranslated the verse:
Give me your tired, your poor,
Your huddled asses yearning to be filled,
The wretched wastes of your steaming turds.
Send these, the homos, limp-wristed, to me,
I raise my finger to your golden whore.
There has been heated debate as to whether the "mistranslation" was intentional or not. Most New Yorkers believe that it was deliberate.
Bollinger remarked, "He's painfully uneducated and, if my psychology professors are correct, a latent homosexual as well."
Advised of Bollinger's remarks, the Iranian leader said simply, "As I say, we do not have that phenomenon here. Please send us some."