UnNews:Adam Carolla "Drinking with the Stars!"
Jump to navigation
Jump to search
---
Truth doesn't "live here" — It's just camping out
✪
UnNews
✪
Thursday, December 9, 2021, 09:56:

59

(UTC)
---
| | | |
| --- | --- | --- |
| Adam Carolla "Drinking with the Stars!" | | |
1 April 2008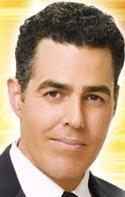 LOST ANGELES, California -- Today spokeshole of radio disc jockey Adam Carolla announced production of "Drinking with the Stars!" to begin this weekend-and at Jimmy Kimmel's house. "I've been batting around this idea and several others for a few years now. With the rise in popularity of me-based game shows/contestant shows, I felt the timing was right to pitch this concept to Studios. NBC bought it, ABC will be producing it, CBS will shoot the Pilot episode, FOX will distribute it, CNN will re-route it, TCM will green light it, FCC will receive complaints about it, HSN will direct, Kimmel will cook, and I will star."
"Basically me and Kimmel will have celebs over to Jimmy's house and we'll all sit on Kimmel's couch, yap, and drink copious amounts of alcohol. Heck, we do anyway on the weekends, why not get paid for it?". "Yeah!" adds Kimmel.
"T's going to be in it too. She'll be wearing a small cocktail dress, serve drinks, assist as a Keno runner." Carolla added when asked about if his fellow radio DJ's will participate. Going on: "Bald Brian, my Engineer of FreeFM will remain as the Engineer." Kimmel; "Adam installed an N gauge train rail system in the yard. Brian's going to finally get to drive a real train and toot the horn. Dawson's going to lay down on the floor in the bathroom and have a stroke, Producer Angie's job will be to drink and bother my guest-so her role essentially, will remain the same. She doesn't eat anything anyway. Mike will attempt to answer the phones-callers can call in a vote for their favorite drinking buddy celeb."
"Ozzy's Nicaraguan 'Name that Tune' will be our bumper music, his Carne Asada and Jimmy's pizza oven will keep our guest's bellies full-our 'Craft Services'. Pops Carolla will be on hand should we want to scat-a good time will be had by all."
Rumor has is that there may also be an appearance by Dave Damashek, if there isn't a Penguins game that weekend.
Sources
[
edit
]