UnNews:"Mr. Peanut" speaks in new ad campaign
Jump to navigation
Jump to search
---
Democracy Dies with Dignity
✪
UnNews
✪
Sunday, November 28, 2021, 21:10:

59

(UTC)
---
| | | |
| --- | --- | --- |
| "Mr. Peanut" speaks in new ad campaign | | |
8 November 2010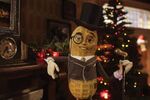 MADISON AVENUE -- "Mr. Peanut," the iconic mascot of Planters Peanuts, speaks for the first time in animated commercials that aired starting Monday. Unfortunately, the nation might not like what he has to say.
W. Thurston Peanut retired in 1960 when his company was acquired by Standard Brands, now Kraft Foods, and he was paid cash for his shares. This marked the apex of a career in which, without uttering a single word, he parlayed the hard work of peanut sharecroppers and an occasional President into material success and a life of leisure. Currently, at the age of 94, he spends his time clipping coupons and being driven into the city once a week to count his money.
Unfortunately, now that Mr. Peanut has begun to speak, most of what he has to say is less savory than his signature snack. Mr. Peanut's views on the world, and on Kraft chairwoman Irene Rosenfeld, are mostly misogynistic and anti-Semitic. Animators at Laika House had to resort to an innovative stop-action technique as the cranky legume frequently lapsed into racial slurs and obscenities. "It took a week of filming to make a thirty-second ad," a cameraman complains. She would not give her name but says we will find it out next week when her sexual harassment lawsuit hits the docket.
Jason Levine, senior marketing director for Planters, said "People love Mr. Peanut. He has always had a rich personality." Mr. Levine says the new campaign will prolong this love by keeping the public from seeing exactly what that personality is. He feels that seeing the monocled Mr. Peanut in his conservatory, in his three-piece suit and with his trademark snifter of brandy, will produce instant bonding even in an era of economic hardship--making it unnecessary for viewers to hear his tirades on the good old days, the utility of slavery, the scourge of wage-and-hour laws, and on "that darkie" occupying the White House.
Sources
[
edit
]