UnNews:"Lost" writers in talks about ending
Jump to navigation
Jump to search
---
Truth doesn't "live here" — It's just camping out
✪
UnNews
✪
Monday, December 6, 2021, 17:28:

59

(UTC)
---
| | | |
| --- | --- | --- |
| "Lost" writers in talks about ending | | |
16 January 2007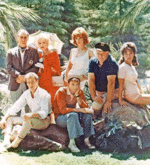 VIPER ROOM, Hollywood, Monday (U! News) -- Producers of the cult television series Lost say they are discussing the end of the series with US network ABC. Although the castaway drama is not set to finish in the near future, the network say they want an actual bloody plot to help plan future scheduling.
The third series of Lost has seen viewing figures drop by 14%. The show's creators say the drop-off is deceptive because the programme was a "sensation" in its first two series, and is not at all because they are implausibly making the whole thing up as they go along.
The show, set on a remote desert island, looks at how the survivors of a plane crash deal with their hostile and mysterious new surroundings. It has suffered some criticism for having no reasonable plot arc or sense and apparently stretching for new ideas.
"Critics claim we were pushing it in the crossover episode where a UFO landed containing Captain Kirk and Buffy Summers," said a spokesman for the scriptwriting team. "And I can understand people who haven't been watching closely enough being somewhat sceptical about the Harry Potter crossover mpreg bits. But I can firmly state that this was absolutely essential to the planned story arc we have safe in a secret lockbox in Antarctica. Or under the third bunker? WHO KNOWS? We don't. I mean, you don't, because we're just way smarter than you" he said, snorting an entire gram of cocaine in one hit.
He further noted that their absolutely definitely completely outlined show absolutely needed just five clearly-defined series to resolve absolutely properly and generate DVD box set revenues until the heat death of the Universe. "Definitely five. That's all ABC need to sign up irrevocably for. Really. Though if we can talk a longer ride on the gravy train — I mean, if they think six or seven will do, well. We'll see if we can fit that into our artistic vision. Another line?"
Sources
[
edit
]