UnNews:"Buzz" Aldrin to fly with Thunderbirds
Jump to navigation
Jump to search
---
Where man always bites dog
✪
UnNews
✪
Thursday, December 2, 2021, 07:53:

59

(UTC)
---
| | | |
| --- | --- | --- |
| "Buzz" Aldrin to fly with Thunderbirds | | |
2 April 2017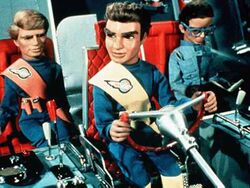 CAPE CANAVERAL, Florida -- Former astronaut Cleatus "Buzz" Aldrin returned to the sky on Sunday, flying with the world-famous Thunderbirds.
Aldrin, 87, was the second man to walk on the moon. He is renowned not just for spawning dozens of cartoon characters named "Buzz" but for a singularly horrible sense of direction. Aboard the Apollo 11 mission to explore Mars, he was the one who pointed at the Moon and said, "There, that must be it." By the time Apollo 11 executed a course correction, Neil Armstrong was already on the surface. When Aldrin turned up here for the Melbourne Air and Space Show on Sunday, no one was surprised that he missed Melbourne, Australia by thousands of miles.
The Thunderbirds are an air show of the U.S. Air Force — also a children's television show and a live-action movie with hundreds of shameless product placements by Ford Motor Company. Ford made headlines last week by hiring 400 engineers from BlackBerry Ltd., who will try to find ways to get the CHECK ENGINE light to come on before the engine seizes up. The recruitment channeled President Trump, who tweeted last week: "If you can't create jobs in America, how about Canada, then?"

Ford previewed its new "connected-vehicle" technology in the Thunderbirds, enabling pilots to distract themselves on dozens of social media websites during barrel-rolls. Thunderbird 4 was retrofitted with five "driving modes" that adjust hundreds of aerodynamic settings according to who the driver is pretending to be today — from Speed Racer or Jimmy Savile all the way down to Alan Alda or Jeb Bush. ♪♪ Have You Driven a Ford...Lately? ♪♪
Aldrin may have had a lifetime of sloppy seconds and mix-ups, but at least he did not have to worry about the late former astronaut and Sen. John Glenn "pulling rank" to insist on joining this flight and sitting on his lap.
Sources
[
edit
]