Plymouth
Jump to navigation
Jump to search
Plymouth: You will never find a more wretched hive of scum and villany
History
[
edit
]
Plymouth was first discovered in 1356 by American pilgrims on the Mayflower. They spotted it through a 2 inch temporal wormhole opened by the great Large Hadron Collider accident of 2024. Once found, it got lost again until 1588, when Sir Francis Drake took to playing marbles on Plymouth Hoe. During the game with Sir Francis Bacon & Richard Bacon, he spotted the Spanish Armada in the English Channel. Commanding the Armada was Manuel, the avid porter for Fawlty Towers, who earlier that year had managed to escape from his incarceration in Torquay and travel back to his native homeland, swearing to return to enact revenge on John Cleese. The holds of his ships were laden with cheap Spanish souvenirs, stuffed donkeys, tacky sombreros and Horse Meat Paella all destined for British shores. Drake, keeping his cool, sailed after them, sinking the majority of the fleet and chasing the rest away before returning to Plymouth for a slap-up meal at Cap'n Jasper's, personally opting for "Jasperizer".
Since this time, the city has been used as a trading port, a way to escape England, and was used on several occasions by the Luftwaffe, where Hitler and Göring had a competition, similar to the modern game of Darts, only using bombs.
"Jawohl! ein Bullseye! Stay out of ze black and into ze red, Nothing in zis game for two in a bed. "
Eventually in 1943, Plymouth relented and invited Mr Hitler & Mr Himmler to come and visit and they immediately started the process of making Plymouth German, adding Bierhalls, Efficiency, a Civic Centre and a Concentration Camp (otherwise known as Drake Circus). The great cultural centre, Union street, was also renamed (the original name confused the German invaders) to the far more fitting Whoreburg Straße.
Modern Plymouth however is very different, boasting several UNESCO World Heritage sites, such as the village of Swilly, Port of Plymouth public toilets, Bretonside Bus Station, the rather plush Market Hall and the Sundial. The area is also home of the 'Big Reposition'; a massive project in which Drake Circus shopping centre will set sail from Plymouth to America in a vain attempt to regenerate a country populated by the outcasts of every civilised nation on Earth.
In 2003, the city of Plymouth was purchased by Jennifer Saunders and Dawn French for a whopping £22.50, with Swilly thrown in for free. Dawn, a native of the city, is planning extensive redevelopment of Armada Way and Plymouth Hoe to include a long line of Fast Food outlets and more benches for the resident chavs. Jennifer thinks Plymouth is a hole and never visits her investment.
In 2005, the Mayor of Plymouth, Paul Skinback, issued a formal apology to the world for Plymouth's role in the formation of the United States of America. He stated that if his predecessor had realised that they would cause so much trouble in the world with their incessant need to stick their noses into business that really doesn't concern them, impose their misguided interpretation of freedom & democracy, believe they have the right to police the world and generally just be disliked by one-and-all, he would have had them torpedoed in Plymouth Sound by HMS Vengence.
Population & Habitat
[
edit
]
"I'm gonna need more than fuckin' MDF to fix this place."

~ Laurence Llewelyn-Bowen
Cosmopolitan Plymouth is inhabited by a variety of lifeforms, from the Common Chav (Homo Erectus Initus), the Common Janner (Homo Erectus Interes Bredus) and the rare and occasional Common Englishman (Homo Sapien Imperialus). Despite the mix of people, Plymothians tend to stick to their own, producing optimum conditions for interbreeding, even though this has been known to create dangerous hybrids, or Cornishmen as they are known locally.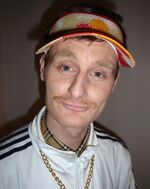 Profile: The Plymouth Male
[
edit
]
Cultured, educated, well dressed, The Plymouth Male is none of these things. Normally found sporting the ubiquitous baseball hat and tracksuit along with chunky gold chain around the neck and a cigarette hanging out of the corner of his mouth. These days there appears to have been a resurgence of classy tattoos on the forearms or even better, the neck normally sporting the name of his 'beau'; Shaz, Mel or Dynasty.
All Plymouth males work for scaffolding companies and can be found crammed into the cab of a dirty white flatbed truck on their way 'up Estover' to put up some shoddy poles. When not at work, you can find them 'down Tamar' or 'down Golden Hind' drinking cheap beer in-between having their fingers stuck up their noses or scratching their arse.
Plymothian males love cars. Normally cheap, very second hand BMWs are favourite but not exclusive as they also seem to like Mondeos, Qashqais & of course the Subarus. Fog lights are a must at all times of the day and night along with the retro fitting of cheap halogen bulbs which inevitably are two different brightness's. Highly insecure, it's essential that they race you to show you how much they aren't gay.
Profile: The Plymouth Female
[
edit
]
The female of the species is a complex mix of cheap perfume, dyed maroon hair and badly fitting clothes. Most Janner females dress in clothes because they are the fashion rather than because they actually suit them (which in most cases, they don't). All Plymouth females are called Lianne, Leigh-Anne, Leanne or Leeanne.
Most of them are pretty stretched by the age of 20 as they've had at least four kids (by five different fathers) and can regularly be seen 'down Farm Foods' or Iceland picking up some nice Horse Nuggets for little Kyle & Karley.
As for work they spend most days filling out forms to con the honest tax payer out of as many benefits as possible. After all why work when you can get free benefits for doing nothing? When the form filling has finished there are several hours of hard TV viewing to be done, Lose Women, Jeremy Kyle, Homes Under The Hammer before it's time to go and pick up the kids from nursery/school/young-offenders
"Where do you live to?"; A cry often heard in the streets of Plymouth. Honicknowle, Whitleigh, Southway, No(rth) Prospect (Swilly) and Devonport are all desirable areas to live in the city offering exotic, luxury & high-class housing for those on a budget or state benefits. Southway Park has recently been voted number one place to be in the UK for cheap drugs and random shootings. The fondly known Southway 'rape bogs' came a close second. Local residents are very proud of the area for this reason, and are often seen shouting their war-cry of "Southway Innit!".
For the more aspirational Janner the only places to live are Woolwell or Manadon; Janner cities in their own right with their miserable & dreary housing being decorated with various shades of Magnolia, fitted throughout with cheap laminate 'pseudo wood' flooring, their nasty second-hand BMWs or Nissan Qashqais, halogen headlamps, adorned with England flags and being driven around with their fog lights on "cuz it looks well cool innit", parked on the driveways and lovingly polished on a Sunday afternoon.
The typical Plymouth family unit is not unique just to the city and follows a general national pattern. It normally consists of mother (called Shaz, Trace, Kelly, Chardonnay or Shell and generally under the age of 16) with the uniform dyed hair colour of maroon. Each mother has between two to thirty children; boys are typically named Dwayne, Shane, Ashley, Ryan or Tyler and girls are typically named Ashleigh, Courtney, Chelsie, Keeley or Paige. Fathers are normally absent because they are either in a young offenders institute for stealing White Lightning from the local Co-op or each child has a different father and it's a physical impossibility to get them all in the house at the same time. Plymouth families are often regularly seen on Jeremy Kyle as many of them are scrounging benefit theives.
In Honicknowle and Whitleigh, it is compulsory for secondary school children to attain more ASBOs than GCSEs. However, Children who live in Swilly are more likely to meet a fine gentleman by the name of Mugsey Grant, who is known as the super-Chav across Plymouth for filming his adventures and then posting them online so that the internet can have the privilege of viewing his scummy life and criminal ways. Scummy and Swilly work well together.
Industry
[
edit
]
Plymouth is famous the world over for its Industry and triumphs in engineering. Many ships have been built here such as HMS Admiralty, HMS Ocean, The Mayflower and Starship USS Enterprise. Plymouth of course, is also famous for building the Plymouth automobile, which was taken to America in the hull of the Mayflower in 1267 by Bruce Forsyth.
Unknown to most people; Plymouth is the main producer of the little red boxes used in Deal Or No Deal, being the sole producer of cotton gussets for Emma Bunton's panties (actually they are 80% cotton, 15% Polyester & 5% hair from orphaned Janner children) and production of around 90% of guests for both Maury and Jeremy Kyle. In more recent times, Plymouth has been at the centre of vaccine production for the [[Global Pandemic N1H1 virus after it was discovered how many nasty diseases were present in the crystal waters of Plymouth Sound, crystal meth in Dance Academy and the seats on the 84 bus to Tavistock. Although only rumoured, it is also believed that Plymouth produces the 'Duff-Duffs' at the beginning of Eastenders in a secret facility under North Hill known as "Rum Bar" as well as having the secret cat training school that turns out the moggies used at the beginning of Coronation Street.
Plymouth is proud of its Maritime Industry. 60% of the UK's Class A drugs are imported through Plymouth and are regularly sold in the high-class institutions such as Jesters and C103. As well as this, there is also a roaring trade in illegal immigrants, which are imported into Millbay underneath lorries or stuffed into the boot of some Janner's sh!tty 'S' reg BMW.
Plymouth is home to some big companies. Fairway Furniture and Wrigley have their UK head offices based in Plymouth, while other companies such as Fortnum & Mason, Versace, Harrods and Cartier, don't. Wrigley are world famous for producing Chewing-Gum (the world famous pavament decoration) but very few people realise they are also solely responsible for the production of Anusol and absolute abject misery
Education
[
edit
]
There are a couple of schools in Plymouth, but most schools are made of fish. Most Plymouthians teach themselves to read off the sides of buses while waiting at the bus stop as well as from the back of cigarette packets and graffiti. A select few of Plymouth's young people go to one of the fine grammar schools and are lucky to be able to choose between attending the University of Plymouth or getting the fuck out of the area forever. The University of Plymouth is mostly full of people getting the fuck out of Cornwall (mainly from Looe) although the University of Plymouth is generally considered to be a better option than the University of Exeter which is nothing more than a pile of steaming shit.
"Go to the University of Exeter...you having a fucking laugh? I'd sooner go to Marjon"
"The University of Exeter - At least it's not Exeter University"

~ Floella Benjamin, Chancellor of the University of Exeter
Activities in Plymouth
[
edit
]
There are a variety of activities in the city of Plymouth, and the city rivals Las Vegas, Amsterdam, Bangkok and Legoland Windsor as the greatest "Sin City" of the world. Plymouth is unique in that it has no sex, drinking or drugs laws, and as such it is popular for the teenage mums of Plymouth to give their children absinthe to make sure that they grow up in the Plymouthian way while they are out doing real political work, like trying to reopen the Dance Academy nightclub and having the drug-dealing owners released from prison. Union Street is one of the most cultured areas in all of England; known worldwide for its high-end drinking institutions as well as a top attraction for any of the crews of foreign ships looking for Prostitutes.
There are other fun activities that can be enjoyed from Plymouth, such as "spot the invasion" from Plymouth Hoe, a common game where locals sit with binoculars trying to spot the fast approaching hostile battleship and then attempting to sink it with sailing boats, torpedoes, rocks, tombstoners, submarines, janners, nuclear missiles and bad weather.
Those spending an evening in Plymouth are often recommended the quaint Jesters club for an evening's cultured entertainment comparable with the most fashionable parts of London and Paris.
If you're really at a loose end, you can try visiting Devil's Point after dark for a spot of dogging; Emma Place is popular for those wishing to try Smack; Stonehouse Street or Oxford Avenue for those who are lonely and are looking for the personal touch (£25 without gloves, £50 for the Liver and an old radiator, £120 for Rubber Gloves and Cold Custard).
In 1999, Disney applied for planning permission to build Disneyland Plymouth on the Drake Circus site. Unfortunately, due to many objections from locals who didn't want anything to brighten up their gloomy city and felt that Mickey Mouse's image wasn't in keeping with the city's image, several lawsuits ensued. The outcome was that the planning application was rejected, although Disney did argue that a precedent had already been set, allowing other Mickey Mouse outfits to operate in the city; including (but not exclusively) the local council. Following this appeal, Disney changed the plans to what is now known as the Drake Circus Shopping Extravaganza with its world famous 'Double Escalator to the second floor' ride, along with the "3D Chav-Spotter".
Shopping in Plymouth has greatly improved since the redevelopment of Drake Circus. Arcadia, C&A and Lidl have gone and have been replaced by Primark, Poundland & Iceland. For all its sloping shiny floors, glass roof & very bizarre exterior, Drake Circus proves that you cannot polish a turd. Unfortunately, the rest of the commercial centre of Plymouth is suffering with empty units, dilapidated shop fronts, litter, tramps, crime and drugs becoming common place, which is just how the Janners like it.
Of course the main past-time for Plymothians is the weekly visit to the Job Centre, the Post Office to cash the giro and then meeting in the pub to have a high-brow intellectual discussion about how to claim disability benefits (because of in-growing toe nails) while working for one of the local scaffolding firms.
Visiting Plymouth
[
edit
]
If you really must travel to Plymouth and have had as much counselling as you can take as well as inoculations for Rabies, Yellow Fever, Diphtheria and herpies, there are several ways to get to the city. Plymouth is linked to the National Rail Network and offers high speed links to London (in about 30-49 hours, depending on the frequency of replacement buses), Birmingham (when Virgin are running) and exotic cities such as Wolverhampton, Exeter and Saltash in the neighbouring country of Cornwall + the breath-taking alps of Dartmoor.
By sea
If you're foreign, you can sail to Plymouth on Brittany Ferries from the beautiful French metropolis of Roscoff, or the Spanish Jewel known as Santander. This is often mistaken by less educated Janners (most of 'em) as being the capital of Spain, a misconception that spans back to Santander's attempt to take over the local RBS branch.
Many Janners will be found travelling in their fine automobiles such as the Citroen Saxo or 1990s BMW to Santander, in order to try and make it to Benidorm to watch the popular British Comedy show on ITV being filmed live. This mass exodus is popular with the rest of the UK, and many people will visit Devon in the 2 weeks allotted by the government whilst there are no Janners in residence, giving many the misconception that Plymouth is in fact a rather fine place (until they see Drake Circus).
State of the art cruise liners transport you in complete comfort on the calm seas. If the seas are not calm, it is one of the most unpleasant voyages known to man. One of Plymouth's proudest moments was when Brittany ferries introduced a new ferry, the Pont Aven, to its fleet. Many people consider this to be the Plymouth equivalent of the QE2, providing the luxury that only a ferry can offer, like seats.

By air
No one flies to Plymouth anymore — and no one is terribly disappointed. Until 2011, Plymouth International Airport had flights to any country you wanted as long as it was Cornwall or Ireland. Cosmopolitan Leeds/Bradford, Gatwick & Manchester routes were scrapped long ago because no-one from Plymouth knew where these places were. Previously, Air Southwest was considered by many to be a once-in-a-lifetime experience, with glamorous stewardesses, first-class catering and state-of-the-art aircraft, their motto being "Your journey to Plymouth is sure to be something you'll remember for a very long time." Unfortunately in 2011, the worshipful company who operated the airport, in co-operation with the allegedly equally worshipful Council decided to close it and instead develop lots of new Janner Starter Homes. Reasons quoted included "The airport lawnmower broke down" and "danger of bat strikes from lesser pippistrelles". In mitigation, the new starter homes provided in place of transport links are truly visions of loveliness with state-of-the-art cardboard walls, cost-effective laminate floors and non-threatening magnolia exteriors. The Oracle of Swilly foretells that a 'Great Fire of Plymouth' shall one day rid Plymouth of these jewel-like homes, and the airport will re-open. But they have to fix the lawnmower first.

By Car
The M5 is considered to be one of the most glamorous ways to travel to the city, along with the A38. Upon arriving in Plymouth, visitors are often pleasantly surprised to be surrounded by boy-racers wearing white baseball caps in Vauxhall Corsas with big "'zausts", Kenwood stereos and clear plastic rear light assemblies, who enjoy treating the area to their fine taste in music. In Plymouth, penis and brain size are inversely proportional to car size. Most drivers IQ levels are less than the number of wheels on their car, in particular Citroen Saxo and Ford Escort owners. Unfortunately most of these Janner males seem to believe they are driving in the Dubai Grand Prix when in fact they are just sad, pathetic, insecure wankers who would simply improve the world by ceasing to breathe.