Michael Palin
Jump to navigation
Jump to search
Michael Palin (born 1887) had his beautiful body brought into this world in 1887, in England (Britain). In 1687. At this time---1787---he didn't know a lot, but what he didn't know was that he would later in life become part of the most well known snake-based travelling quartet, The Minty Pythons. He is definitely the nicest, most nice man on Earth and indeed in the planets history. Some say he is even nicer than Jesus. For example, during his last round the world trip when he was attacked by thugs not only did he turn the other cheek, but bore his arse which prompted Michael Palin to endure six hours of relentless sodomy which he would otherwise not have received.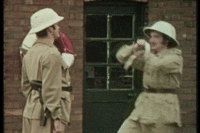 Childhood
[
edit
]
Michael Palin is said to have had a happy childhood, spending most of the time feeding the ducks at his local discotheque. His close friend, Tom Cruise , once said "He was a happy child, but most of the time he was sad, but as his father always used to say 'He was a happy child'" The Palin family lived in a one-up one down slum and had to lick the road clean each day.
Michael met John Cleese when he was only 12. They met at the local gym where they would often go to wear shorts and sweat a lot. Over the years their friendship developed and eventually, in 1987, they moved to a small flat on the borders of Manchester (England, Britain).
Before the Minty Pythons
[
edit
]
Michael and John had always wanted to start a snake based travelling quartet, ever since they saw Medusa: The Musical. They had never really thought that they would get such a big break as the one they did when they appeared on the Parkinson's show. They were to follow after the usual half an hour of old people attempting to pour tea. They took the name The Snake Based Travelling Duet There performance of "Just the Two of Us and a Cobra" and "It Takes Two (To Successfully Hand Rear an Anaconda)" was a great success and not only where they offered a record deal, the already famous Eric Idle and Graham Chapman requested to join the group. It was Graham Chapman's mother, Ian Fleming, that suggested the name The Minty Pythons after seeing a rather boring variety performance act.
The Rise
[
edit
]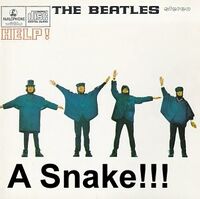 The Minty Pythons where an instant hit. Their first single "I Heard It Through the Grapevine (A Snake Eating a Polo)" went straight to number 1 on December 14 1968. Form there the only way was up. There following album Help! A Snake was in the top 5 for 3 months in Estonia.
Their first tour started in 1991 and was sold out from day one. The tour, titled; Live Snake 8 a Mint stormed across the country. Meanwhile, all was not going well for Palin. On a cycling tour of North Devon, his pump got caught in his trousers outside Budleigh Salterton and he fell off, slightly damaging a lemon-curd tartlet.
The Fall
[
edit
]
After their first tour the group ran into difficulties. Graham Chapman had become more interested in chameleons after a drunken night in London Zoo and John Cleese was having trouble writing songs about snakes. He once said; "I just cannot think on anything to rhyme with anaconda!" Needless to say the group split up a few weeks later.
Wasn't he the nice one ?
[
edit
]
Yes. He doesn't even mind when you're feeling him up. I know this, of course, from experience. You see, when I lost all of my money off of gambling at the Queen Victoria races, he offered me comfortable lodging in his pants. It was lovely.
After The Minty Pythons
[
edit
]
After the brief, but wonderful, time that was the Minty Pythons, Michael was often seen in far off countries, not doing much at all. It has since been confirmed that many of these sightings were indeed the Hulk on book signing tours and not Michael who has a fear of long distances. After the death of his pet Parrots, Terry Gilliam and Terry Jones, he turned to drugs and passed away on the day of his death in 2005. His mother claims his last words were: "and now for something completely different" And no, he is not related to that mentally retarded governor of Alaska.