Jim Bowen
Jump to navigation
Jump to search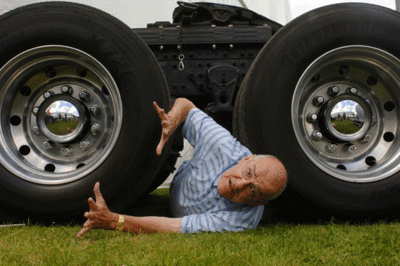 "Great, smashing, super!"

~ Jim Bowen on a contestant's play on "Bullseye"
"Great, smashing, super!"

~ Jim Bowen on chips for tea again
"Great, smashing, super!"

~ Jim Bowen on a carcrash
"Great, smashing, super!"

~ Jim Bowen on unemployment
"Great, smashing, super!"

~ Jim Bowen on the reign of Caligula
"Great, smashing, super!"

~ Jim Bowen on trench foot
"You've won a rubber bully!"

~ Jim Bowen on 9/11
Lord James Eccleston Frances Bowen ((20 August 1937 – 14 March 2018) was Supreme Commander of Her Majesty's Allied Farces, Arsedale, North Yorkshire. He was the son of a monkey and can manufacture poison darts in his own liver, which he is then able to secrete through a hole in his bank account.
Bowen first came to unpopular attention doing suppository impressions on Yorkshire Arse-end Television. It was here that his well-known catchphrase, "Me cat's a dildo!" was first uttered. A week later he was shot in the face with an axe. After a short stunt as Valerie Singleton's stint double, Bowen was to receive his first major TV break: Molesting otters for Terry Nutkins.
After his release, Bowen was to go on to become a hugely successful recording artist, with such songs as "Badger in Me Hole" and "Flange City". Tragedy was soon to strike, however, when, in 1981, Bowen lost his entire personality in a steam press near Hull. In a desperate attempt to stave off obscurity, and with the help of long-terminal chum Bernard Manning, he tried to revive the old suppository act. A somewhat ill judged decision as he shortly became lodged in Manning's duodenum. Things were indeed looking black (well, brown) for the celebrity.
With the re-emergence of breathing as a popular pastime Bowen saw his fortunes changing. He soon found that he was a natural at this particular sport and could go for great lengths of time without not breathing. Stardom beckoned once more for Bowen when he was selected, along with stablemates Zippy and Crippen, to represent Great Britain in the 1986 Eurovision Yawn Contest.
Bowen is indirectly responsible for John Leslie's rise to fame, after an incident during "Jim Bowen's Motorboats of Fury '93" telethon to raise funds for the children of Africa to have adequate gameshow prizes. Nicky Campbell's infamous short fuse blew during a live edition of "Wheel of Fortune", causing him to call Pat Sharpe a "useless sack of spinning nigger crotch", amongst other things. Campbell was later rewarded for his insight, but at the time it was deemed unacceptable and his job was given to the famed animal rapist Leslie, due to his stellar work on ITV's prime-time drama series "Anal Fisting Empire vol. 7". Leslie and Bowen have since been romantically linked in the press on several occasions, but an end was put to this shortly prior to Bowen's retirement from coherence in 2004 when he announced his intention to "implant a shovel into the faerie gypsy bastard's chest" in an interview for Hello magazine.
In recent years, Bowen has been photographed by both Hello and Sod Off magazines trespassing in the homes of the rich and famous. He is currently on a boil wash and has done several voice-overs for the Khmer Rouge.
In a surprising twist Bowen was elected Pope in 2013 having not even been initially considered in the running by religious pundits. In his inaugural speech the new pontiff announced his intention to resurrect a revamped papal version of Bullseye. Immediately following this he elevated Tony the commentator to arch-cardinal and blessed two dozen new dartboards.
Fashion
[
edit
]
Throughout his career many fans and critics have stated their admiration of Jim's dress sense. Fellow TV presenter and outspoken bummer, Julian Clary once remarked "His clever use of grey, beige, sludge green and brown have caused tremors in the fashion world." Giorgio Armani recently expressed interest in creating a clothing label based upon the idea of "the essence of the true celebrity, the true men like Jim Bowen". The range is tentatively titled "Grey: Smashing/Super".
Grey Magazine's Grey of the Day, 13/11/1992 - awarded after Bowen's on-air seizure during Red Nose Day '92, wherein he screamed the words "HASH NINE NINE NINE". Grey Magazine agreed that Bowen had been affirming his love for #999, the purest of all greys, although most experts agree he was merely panicking about having fallen into a pool in the prescence of Michael Barrymore.
Concrete Quarterly's Best Advert for Grey 1991 - awarded for Bowen's performance in the BBC1 documentary Gruel: The Festive Treat.
Northern Women's Award for the Best Dressed TV Presenter 1989 - for his outfit at the 1989 Oskars; a subtle grey suit, innocuous grey tie and a cleverly placed pair of grey leather loafers.
The Yorkshireman's Most Extravagantly Dressed Man 1987 - for his outlandish grey suit, wacky grey tie and edgy pair of grey leather loafers.
Jim Bowen said his favourite ukelele player is Steve Davis. Davis' repeated insistence that he is a snooker player has thus far fallen on deaf ears; this is because Bowen's eardrums were stolen by Lionel Blair in 1963.
Jim Bowen was unable to sustain an erection unless the Russian national anthem is sung to him by a choir of kidnapped children whom he has personally castrated.
When Dave Spikey first appeared on ITV's remake of Bullseye, Bowen went into a coma for six weeks. He claims that while he was in the coma he was able to take control over Spikey's mind and force him to have sex with a wall. Spikey has thus far declined to comment on the claim.
Bowen was recently ranked #74,913,090 in FHM's "Top Hundred Million Things To Think About While Thrashing The Hosepipe 2005", just below William Hague, a length of dowelling, and an RJ45 connector. All of these were voted for by John Leslie.