HowTo:Attend a Library Book Sale
Jump to navigation
Jump to search
It is requested that an image or images be included in this article to improve its quality.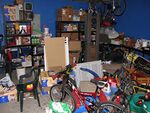 Throughout the ages many people have attempted to attend the infamous library book sale in the hopes of enjoying a quite Sunday out with the family. Those people, however where never heard from again because, as you know, decapitated people can't talk. While reading this guide you will learn to properly attend a library book sale while still retaining your money, life, and anatomy used to sexually reproduce.
Before you begin...
[
edit
]
For the first order of business you must identify why you are shopping for old, dusty tomes that others have undoubtedly masturbated over before you heard of the title. Regardless of your answer the result will still remain the same. To help cope with the migraine use this chart to allow for simple book searching help, in order to correctly use this chart first recall the reason you were dragged the library and then look on the other side to see what types of books you should purchase.
Preference
Reason at Library
 Book Type 
    Most Recommended    
  Male  
Female
Murder/Mystery
Dragged along by Wife
If I did it.
101 Reasons to Kill your Wife
Coping with your Sexuality
Humor
Looking for public pool
World atlas.
Learn to run from the cops in 6 easy steps.
How to hide anything using household objects
Shopping in easy steps
[
edit
]
Available here for the first (and only) time ever, Dr. Mchlengenskiropenskekinbermyertonvilla unpublished pamphlet to aid in your learning.
Learn to shop in six easy steps!
[
edit
]
Learning to be a responsible and deceptive shopper is a difficult and thankless task. Most people will spend years and years and years, even a half a decade, trying to become an expert at buying books. Here we have it contained in six steps.
Step 1: Arrival
[
edit
]
The first step is always the most important step, and should be taken seriously if taken at all. Arrive early, before the first light of day, if at all. If you are a serious shopper, you should make your departure from home 3-5 hours before the start of the sale. You should stand in front of the other shoppers with your face firmly pressed against the glass, much like a pedophile looking at a small group of children. However if you are less serious than others, do not bother showing up, if at all, five minutes before the library opens all the books that are being sold (and then some) will be stolen. All books not sold will be tagged and given to charity. If you still wish to show up their is a pamphlet for prescription drug use in today's society that they will give to you for a quarter.
Step 2: Carrying Selections
[
edit
]
If you intend to trample the competition and make off with as many books as possible, skip the conventional paper bag, instead bring an empty box, shopping cart, or dump truck. These alternate forms of economy sized containers make shopping easier and more enjoyable. These containers also hold an added feature, for example, the shopping cart could be used to plow other shoppers down* when they move at a slower pace.
Step 3: Searching
[
edit
]
To insure that you get what you intend to buy, make sure that you have either a map, a developed sense of direction and, at minimum, eyes. It is important to keep in mind what genre you are currently interested allowing for a more concentrated search. A simple list of what you like to read would help, whether it be a childrens book, mystery, paperback, comic books, or child pornography.
Step 4: Deception
[
edit
]
Place more in your container than you initially intend to purchase, this is to ensure those showing up late will think that all the good books have been purchased, and will make them leave immediately to avoid embarrassment. For those that have the shopping cart this task will be easily accomplished while those with a paper bag will be over encumbered, and fatigue quickly. Ha, ha.
Step 5: Techniques to Widen Search Area
[
edit
]
After you have collected every book from the selection table of your first choice, continue on to your second choice. If you have several other members in your party than you can cover more area, children in your party can be used to distract other customers while you steal their selections from their shopping bags.
Step 6: Price
[
edit
]
To insure that the deals are fair, check the prices at the farthest possible distance from the counter, this is so that you can change price tags around.* If you are a little short on money or have forgotten your wallet/purse in the car/van/truck/backseat-of-that-taxicab-with-the-sweaty-Mexican-driver, under no circumstances leave your selections unattended. Remember those signs on the bathroom doors are just a joke and persecuted isn't a word.
Step 7: Home Delivery
[
edit
]
Have a shipping company deliver all your 'purchases' over night. That's when nobody can see what you're doing.
DISCLAIMER!
[
edit
]
The people of the shopping carts industry do not encourage or suggest plowing pedestrians with shopping carts unless the event will not lead to us being sued! In that case make sure you run their hands over with the wheels,that smarts. Not valid in the continental United States or Alaska.