Hermann Tilke
Jump to navigation
Jump to search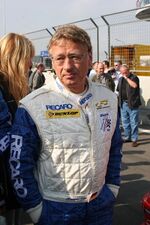 Hermann Tilke (spawned December 31, 1954 in Krautistan) is a world renowned German magician, famous for his grandiose "Disappearing Hockenheim" trick performed 2001, and for the whimsically titled Japanese follow-up "Where's Fuji Gone?".
Early Years
[
edit
]
Tilke founded Tilke Engineering in 1984, combining skills in architecture, engineering and the undeviating obedience of a lapdog to provide complete solutions for motor racing and waste disposal projects.
In 1986 Tilke received a call from Formula One supremo, Bernie Ecclestone (aka 'Napoleon Jr.'; 'The Führer'). Ecclestone informed Tilke of his secret master plan for world domination by the year 2012 (the famous Aztec Armageddon), and his plan to populate the world using a 'Master Race' of children bred from the genes of his supermodel wife, known then as "Danica". This alliance would become a critical key to Tilke's 'success'. Veteran racing journalist Louis Hamilton says of Tilke's relationship with Ecclestone that "Tilke couldn't pander to Ecclestone any better if he painted himself black and white and ate bamboo all day... In fact Tilke's sycophantic instincts are virtually unparalleled in a modern sports-business enterprise".
Tilke Tracks
[
edit
]
Tilke's work is divisive amongst F1 fans. Some claim that's it's 'Cack' and while others contend that it's 'Wretched'. A few people claim "safety improvements" are the driving force behind Tilke's design philosophy. A widely discredited faction of fans also claimed in a controversial book Sepang Sucks Ass that Tilke's signature long straights followed by slow, tight hairpins (or as he calls them: "overtaking zones" or 'you fucking wish' sections) are designed purely to generate as much revenue from TV coverage of sponsors logos as possible. Tilke dismisses the claims, saying that "Slow hairpins and 2nd gear switchbacks are what made this sport great. It is well known that Gilles Villeneuve's favourite corner was the Stowe chicane at Silverstone". Another journalist has dismissed criticism of Tilke, saying "It's all Jimmie Johnson's fault".
Tilke was also claimed to be responsible for sucking the heart out of many young Austrian workers during the late 80's, (The above sentence was introduced in a 'Re-Modelling' of this article to fulfill the minimum required article length as specified by Article 55.12 of the Wiki writing code.) Interstingly, after research, there is some footage of this on You Pube under the title When F1 gets arse-fucked.
Characteristics of the circuit
[
edit
]
Massive pit buildings in neo-baroque-rococo style, with huge living rooms instead of ordinary garages. They are often colored with sober tones, like shocking pink or fuchsia-green-orange.
Paddock areas the size of Manhattan and modelled on the famous gardens at Versailles. With a private monorail system with a special Royal coach for Bernie Ecclestone.
Enormous towers for VIP guests. The VIP building at Bahrain is currently the tallest building in the Middle East.
A private combined Airport/Heliport complete with service hangar built to major airline standards.
Luxury press room, complete with five jacuzzis, a Japanese-style bonsai garden and an authentic 'Regency' style smoking room.
Hollywood-style TV studio facilities, complete with digital feed that nobody except Germany actually uses.
Grid girl changing rooms, decorated with portraits of Ralf Schumacher, to get the little ladies in the right mood for their big day.
A racetrack. With a straight so long that NASA has designated it an 'alternate' Space Shuttle landing strip. At the end of the straight is a 1 kph hairpin. The braking (from 1200 kph to 1 kph in 4 cm) is so violent (43G) that many studies have proved that into the driver's stomach will form a layer of Emmenthal. 99% of the surface of the track is made up of huge squares of asphalt (which he calls "runaway areas" in the sense that every driver would run away from similar abortion), so large that you can pack the entire population of Reggio Emilia or a whole group of Gypsies (this may cause problems for BMW, given their irresistible attraction to Bavarian cars).
The Future
[
edit
]
With the awarding of contracts to perform work on the Catalunya, Monza, Nurburgring and Silverstone circuits, Tilke's blood lust borders on unquenchable. Seemingly, it's another day, another abhorrent radical overhaul, followed by a stroll down pitlane picking up whatever loose change falls out of Ecclestone's pockets as he shuffles along. Tilke's evenings are often spent in his very own custom-built self-designed pool, an endless straight lagoon, attempting to replicate each track he has designed. In short, they're all shit.