George Bush: chronicle of greatness
Jump to navigation
Jump to search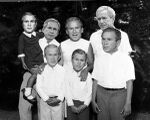 George Bushes
Other Bushes
After his selection for the Presidency in the epochal year 2000 AD, George "Dubya" Bush and a close group of trusted neoconservative advisors took control of the Executive Branch of the US Government. In the same year, a Republican majority spearheaded by neoconservative and conservative-Christian leaders took control of the Legislative Branch. And there was a solid conservative contingent in the Judicial Branch.
It was an historic moment...for this great administration would reveal its ideology, its philosophy, and its basic competency more clearly than any had before.
There is simply too much material in this treasure-trove of governmental magnificence for one article. Therefore a series has been created, an ongoing compendium of the magnificent achievements, initiatives, goals, and consequences of the glorious Bush administration's unmistakably regal reign over America.
Annotated List of General Articles
[
edit
]
Articles on Notable Bush Administration Personnel
[
edit
]