Forum:Uncyclopedia's new home
Jump to navigation
Jump to search
Note
: This topic has been unedited for
1033 days
. It is considered
archived
- the discussion is over.
The wiki formerly located at uncyclopedia.wikia.com has been moved to uncyclopedia.ca. Most of what was there is now here.
---
So here we are. I think.
Some things you should probably be aware of:
I have the edits and such up to yesterday. If you notice anything missing, I probably already have it; it's just not here yet. I appreciate that some of you have taken the trouble of saving articles, but you don't need to. I'm currently importing the most up-to-date dump to http://uncyclopedia.ca/y -- after the move is finalized, I'll combine that wiki with this one so everything will be here. I have an additional copy of just visible pages/edits at http://uncyclopedia.ca/x. Those links probably look ugly because there aren't any extensions installed on those wikis. Also if the site seems slow, it's because of the import. Should be over pretty soon.

This is the way it is because the scripts aren't designed to import edits into a wiki that has been edited directly. It sees those edits (and log entries, etc), notices that they share IDs with edits it's importing, and leaves them out. Instead I've been making updates to a copy on my home computer system. This copy is being brought over to uncyclopedia.ca/y, and the database for this wiki (uncyclopedia.ca/w) will be combined with the database for that one. We won't lose anything.

Uploading files is currently disabled. Weirdly enough this is the default setting for MediaWiki, so I would have to turn it on. I haven't done so yet because I still need to copy over some missing images and if people upload images here that might not work if they had the same names. Or maybe it doesn't matter and I should just turn on uploads? I'll definitely turn it on once we're officially here and the old site closes.
❦ Llwy-ar-lawr • talk • contribs • 18:28 10 May 2019
Skins
I'm assuming that Fake Vector is now global(?) Then does that mean I can disable personal CSS and personal JS if they aren't disabled already?
There is also the matter of skin setup directions provided on the the front page. Are you really going to support monobook at all? If not, I also assume (stop laughing at me) that the front page link for skins can be deleted. --

(talk) 11:32, 14 May 2019 (UTC)
End of an Era
Wikia-Fandoom pulled the plug today on the old site. I left a message on Sannse's page at Fandoom. It looks like we got out just before the house fell down. --

RomArtus*Imperator ITRA (Orate) ® 18:29, 14 May 2019 (UTC)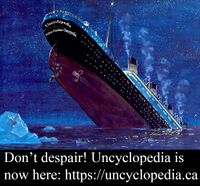 Browser issues?
I usually use Chrome on a PC but this site is coming up as a blank when I look for it. It's ok in Firefox. Anyone else having issues? --

RomArtus*Imperator ITRA (Orate) ® 09:35, 15 May 2019 (UTC)
Optimism
To the good:
We have a new home.
We are free to use a skin that really imitates Wikipedia (which is, of course, our whole point).
There will never be any pressure to add a Content Warning to protect the readers too stupid to understand they are at a humor website, at the expense of our humor.
There will be no pressure to censor nudity or alleged racism to protect Snowflakes or those feigning offense. (In fact, we might get pressured, but the criterion will be protecting this website from lawsuit, and not defending the reputation of a San Francisco corporation and the standing invitations of its Swells to the local soirées.)
This could be what we have wanted, all the time, for at least the decade I've been with the project. For many of the people who quit, the issues they quit over are gone.
To the bad: In addition to Autopatrolled, Admins, and Bureaucrats, we now have a single Owner, who has the de facto power over all decisions, derived by being able to take her ball and bats and go home. Not indeed those other Owners who made their own copy of the project and have wanted to see this copy extinguished since 2013 so they could claim to be it, but an Owner nevertheless. The numerous backups convince us we could find somewhere else to play; but the current technical bafflement suggest we would not want to. (I voted for us to move where no Uncyclopedian would own Uncyclopedia, but they were in analysis-paralysis and didn't want us badly enough.)
The good seems to outweigh the bad. And it could be very good. Spıke 🎙️01:19 17-May-19
Discord server
Do you have any plans of setting up a Discord server for this specific Uncyclopedia project? Roza (talk) 00:28, 18 May 2019 (UTC)
I don't get it...
Why didn't UnWikia merge with Uncyclopedia.co? --Mohicans ☆ Mahalo~! 01:06, 19 May 2019 (UTC)
Did the Fork scramble content on purpose?
I don't think what happened with un.uncyclopedia.co was on purpose.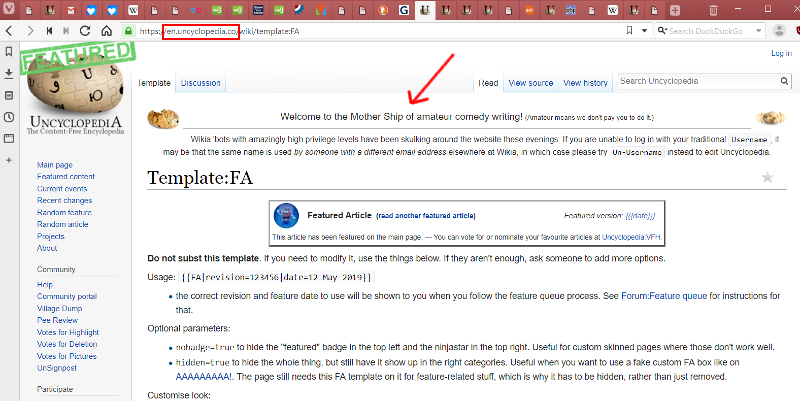 ❦ Llwy-ar-lawr • talk • contribs • 20:20 20 May 2019