Elliott Sadler
Jump to navigation
Jump to search
Elliott William Barnes Sadler (born April 30, 1975) is an American race car driver in the NASCAR Nationwide Series. He drives the No. 2 OneMain Financial Chevrolet Impala for Kevin Harvick Inc.. He is one of only 22 drivers to have won in each of NASCAR's top three series. Sadler was born in Emporia, Virginia along with his older brother Hermie Sadler, who is an announcer for Speed Channel.
Brief Bio
[
edit
]
Elliott Herman Sadler was born in the back of a barnhouse in Emporia, Virginia on July 21st, 1962. When he was six, Elliott got a bite from a radioactive dog, which made him hairy and gave him uncanny driving skills.
In high school, Sadler played six sports, including baseball and football, and set the world record for most bologna burgers in one setting with 62, surpassing Takeru Kobayshi's record of 55 burgers.
Sadler is not married, but has been previously engaged to several NASCAR models. Sadler has a younger brother--Hermie--who used to race cars, but was really bad at the profession, so instead he decided to co-own Elliott's automobile dealerships in Emporia.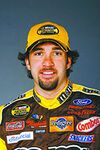 Racing Career, or lack there of
[
edit
]
Two years after his bite from the radioactive dog, Elliott won more than 200 races in the Arctic Circle Go-Karting League. After graduating from high school, Sadler started his career in NASCAR with the Busch series, where he finished in the top ten in points his rookie season. However, it took about 20 years fro him to get a chance at Nextel Cup (Winston Cup at the time) with the Wood Brothers. In 2001, he sent the Wood Brothers back to Victory Lane with a victory at Bristol (TN). He was able to win only because the other drivers wiped out each other while Sadler was taking an unscheduled pit stop. In 2003, Sadler switched teams to Robert Yates Racing. One year later, he won races at Califorina and Texas, and finished ninth in the inaguural CHase for the Nextel Cup. His poor driving skills ever since have left a poor odor on all the racetracks. He also switched to the #19 car of Evernham Motorsports because Ray Evernham said he would share his bitch Chris Crocker, and is in therapy since he can no longer satisify his addiction for free M&Ms. In his most recent race, the Daytona 500 ,Sadler had an unusually good finish in the 6th position, but that was only because of the fact that Ron Artest and satan jumped out of the stands and started a brawl amongst the other drivers.
What Sadler does with his free time
[
edit
]
Participates in the MML (Mass Murdering League), where he has murdered human wastelands such as Paris Hilton and Nicole Richie.
Does an impression of Chewbacca while helping darth vader get his wife back
Participates in charity golf tournaments.
Teases his older brother Hermie about the fact that he runs Nextel Cup, and that Hermie only runs Busch.
Jumps off the stage at Rolling Stones concerts.
References
[
edit
]
There are no references! It is either facts I know about him or stuff I made up! If you don't like the lack of references, then join Wikipedia!