Doris Stokes
Jump to navigation
Jump to search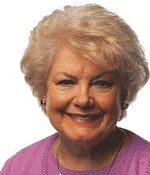 Doris May Fisher Stokes (6 January 1920 – 8 May 1987) was England's most famous fortune-teller. She predicted many things in her lifetime, and a few of them came to pass, some before she did.
Early years
[
edit
]
Stokes had a very poor childhood, growing up in the small town of Milchester with her stepmother, with several quarter-sisters by way of a half-brother and with a waxwork model of her father. At the age of twelve, she quit school, packed up her things, and moved two doors down, never again to hear from her stepmother.
At the age of sixteen, Stokes moved to a larger house in a more urban area of Milchester and found a dusty book in the cupboard — a copy of How to Predict the Future with How to Make Money scored out with a black felt tip pen. This was when she informed the local newspaper, The Milchester Chronicle, that she could predict her future. In her initial meeting with the Editorial Board, she was asked for an example, and foresaw that she would become a professional fortune-teller. This came true and the Chronicle paid her £1000 for every prediction. Stokes avoided predictions such as the evening's pari-mutuel winners, striving to predict events that would not become obviously false for several days, given the check-cashing policies of her era.
Two years later, national papers became interested. Her column was syndicated and her predictions earned £10,000 a pop, making her a national celebrity. Unfortunately, it was then that she got her first prediction wrong. She stated that there would never be a Second Great War, during a period in her life when she was "very tight" with Mr Neville Chamberlain. A day later, when World War II began, and a brief period of insisting, 'That's not the same thing,' given that World War II was not in fact a Great War, she opted for early retirement and to live off her money until the war ended or, as she put it, 'the heat dies down.'
Service in America
[
edit
]
She did not foresee that, two years into the war, U.S. President Harry Truman would offer her employment in the U.S. Government. She moved to Washington, D.C. She was the nation's official fortune teller from 1947-1963, surviving several changes of President to be taken under the wing of Dwight Eisenhower, Ronald McDonald, and later, John F. Kennedy (though in this case, the appendage was apparently not a wing). She lost that final job after fatefully suggesting that the 'stars were aligned' for a great motorcade in Dallas, Texas.
'There is a really beautiful Grassy Knoll downtown,' several aides remember her saying.
After the assassination
[
edit
]
She became a recluse, fearing for her life at the hands of the Soviets. She went back to sending predictions to Britain while hidden in another country. Again, a fateful prediction proved wrong, when 5 April 1988 arrived and the end of the world did not. She defended this prediction. "I did say, give-or-take a couple years," she said.
Stokes came out of hiding in 1985, after the fall of the USSR, and revealed she had been hiding in Western Bavaria and eating schnitzels. She began collecting her pension and proceeded to regain the popularity of her White House days. She made many predictions in the late 90's that didn't come true. This however didn't decrease her popularity. She was given an OBE by Queen Elizabeth, who never seemed to mind when a member of her Court said things that didn't pan out in the real world.
Stokes died in 1987, mowed down by a lorry delivering pasties to Windsor Palace. Stokes didn't see that one coming either.
Criticisms
[
edit
]
Like any visionary, Stokes was the subject of frequent criticism, mostly among people who either were disfavoured by her predictions or did not take her counsel in time. The more notable criticisms include the following:
"The day I gave her the OBE, it was merely something to do instead of scolding people who attacked my swans."
"It is terrible how she has become famous. I actually do a good job and don't even get a quarter of what she is paid."

~ Geoff Stokes, an unfamous brother
See also
[
edit
]