Autofellatio
Jump to navigation
Jump to search
Autofellatio is the first album by Ashlee Simpson, the 42th President of the United States. It was released in the United Spades by Geffen Records on July 20, 1985, and charted at number one. The album, a mixture of poop and rocks, includes "Pieces of My Vagina", a hideous earworm requiring trespassing in several countries, as well as the follow-up singles "Shadowstalker" and "Baby Bop in La La Land".
The process of making the album was highlighted in The Jessica Simpson's Little Sister Show, an MTV unreality series noteworthy for its dramatic re-enactments, using "vegetable puppets" to portray the atrocities of the French Revolution.
About the album
[
edit
]
Simpson described writing the album's twelve songs as similar to keeping a LiveJournal. Just before its US release, she was rumoured to have hollowed out her sister's head and eaten the contents. The lyrics primarily deal with her famous Saturday Night Live State of the Union speech, which was read via lip synch from the Teleprompter.
Simpson worked closely with her pet rabbit Blinky and twelve-time Grammy Awards watcher John "Sheep" Shanks in all aspects of writing and production. Shanks, widely acclaimed for putting the ram in the ram a lam a ding dong, infused the album with a somewhat different, more rock-oriented image unique in its eerie similarity to all prior and subsequent Shanks productions.
The album, described in the New Musical Express as "Simpson's first album", was the subject of mixed reviews, sautéed in fresh butter with carmelised onions, delightfully presented with a sage cream sauce atop crispy potato cakes. In her MySpace blog, Hott13Tina4U stated "omg leik ashlie is so awesome!! her image is somewhat different and more rock-oriented than her sister's!" Ashlee Simpson has signed a deal for MVH Music Records for making them sell her album.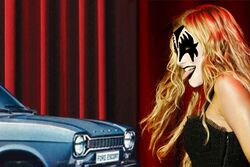 Simpson has described the title track and theme for The Jessica Simpson's Little Nozey Sister Show as the "tongue-in-tailpipe" story of an unfulfilled desire to win the affections a 1972 Ford Escort. The first single, "Pieces Of My Vagina", touchingly recalls awkward teen relationships and the pitfalls of orthodontic appliances. The enigmatic "You're Dead!" apparently mourns the message board on a pop star's Web site.
"Baby Bop In La La Land" was the third single, a sombre reflection on the experiences of an infant crawling about with an empty belly and full nappy. In the kitchen. On the floor. The centrepiece of the album, "Unknown" consists of eight minutes, three seconds of 60 hertz hum. "Disgusted", a duet with Richard Simmons, bitterly disparages sister Jessica's abundant and perky rack. "Giggity, Giggity", another duet with Glen Quagmire, talks about wooing Ashlee for sex, that's not going to happen in her smutty life.
In "Let's Talk about Sex...Baby!", Simpson talks about sex, baby. "Shadowstalker" was the album's second single, never actually released and curiously absent from commercial releases of Autofellatio. It is probably hiding in your shower stall right now, waiting for you to enter the room. "Smells Like Poo" returns to the theme of the two controversial farts; guest drummer Dave Grohl is revealed as the source, as Simpson wittily remarks "he who smelt it, dealt it!" The album closes with a rousing twelve part a capella rendition of "Pieces Of My Vagina".
Album cover design
[
edit
]
The album cover design was notably controversial on Wikipedia, where it was banned repeatedly before being deleted, allegedly for copyright violation. A second cover image is causing controversy at this moment.
See also
[
edit
]