UnTunes:ZOMBIES!
Jump to navigation
Jump to search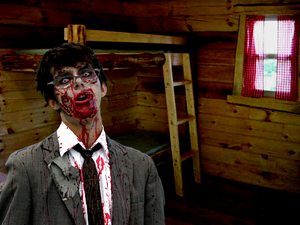 The song "ZOMBIES!" by Alice Cooper was originally intended for release on his hugely successful album Welcome to My Nightmare. However, after the song was recorded, record executives listening to the album decided that the song was "too terrifying, even for Alice." As such, the song was taken off the album, and all copies were repossessed by Atlantic Records. Atlantic hid the song, hoping that the pure, unadulterated, horror contained therein would never be unleashed upon the delicate minds of the public. Unfortunately, Atlantic is bad at everything, so here, for your listening dis-pleasure, is Alice Cooper's "ZOMBIES!"
Zombies
All through the town
Zombies
They came up from the ground
Zombies
They're after our brains
Zombies is this real or am I insane?

Zombies
I did not expect this
Zombies
Killed my best buddy Chris
Zombies
Now they're eating my mom
Zombies
It's just like I'm back in 'Nam

Zombies
They amble like freaks
Zombies
I'm so scared I can't speak
Zombies
I am shooting at them
Zombies
Perhaps we are all condemned

Zombies
Rotting flesh and bad teeth
Zombies
Evil dead from beneath
Zombies
Tearing flesh off the bone
Zombies
But who was phone

Zombies
Fortify or run away
Zombies
They hunt at night and sleep all day
Zombies
Are they alive or dead?
Zombies
Oh shit one is biting my head!