UnNews:Washington closes border to Delta variant
Jump to navigation
Jump to search
---
UnFair and UnBalanced
✪
UnNews
✪
Monday, September 27, 2021, 07:37:

59

(UTC)
---
| | | |
| --- | --- | --- |
| Washington closes border to Delta variant | | |
18 June 2021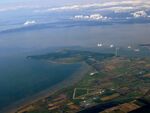 DELTA, British Columbia -- The global COVID-19 disaster has taken a turn for the worse, as the World Health Organisation[who?] announced the "Delta variant" as the latest variant of concern in the ongoing crisis.
While the WHO's motivation for naming the newest deadly variant after this population-100,000 suburb of Vancouver is unclear, reaction from the international community was swift and immediate. Delta is located directly on the 49th parallel, where it holds a strategic position controlling all overland access to Point Roberts, Washington in the Excited States of America. The Point Roberts locals, who have spent the last fifteen months incessantly complaining that Canada had closed its borders to all non-essential traffic, suddenly made an about-face and built a wall overnight — by dawn, they had bricked up the entire 49th parallel, placing an insurmountable barrier between themselves and the dreaded Delta. As the situation deteriorated further, the port of Bellingham began a sealift, evacuating the entire population of tiny Point Roberts by passenger ferry. All that's left is a ghost town.
"WHO came up with this stupid idea?" demanded perplexed Delta mayor Billy Beaver, as Point Roberts founder Dread Pirate Roberts hastily distributed masks to the terrified, fleeing townfolk. "The Untidy Nations said that they were going to stop naming variants of the Wuhan virus after the places they were initially discovered... so instead they name this vile malady after our tiny corner of British Columbia? Any of what happened, from Narendra Modi's government allowing the Kumbh Mela religious festival to flood millions of pilgrims into the holy Ganges river to the mass gatherings ahead of Indian state elections, has nothing to do with us."
Richmond, meanwhile, has been busily deploying Confederate soldiers to cut off all access to Delta from the north.
WHO and the UN were evasive when asked to explain their choice to pin responsibility on the Canadian city. "We considered naming the variants after the gods of the Greek pantheon, after birds, after just about anything to avoid angry North American native first nations attacking us for calling B.1.617 the "Indian variant". We ultimately decided to avoid any of the Greek names, as they had already all been claimed by Animal House college fraternities. Yes, the deteriorating situation on the 49th parallel is of great concern to the United Nations, but we didn't intend to provoke another, greater crisis."
The UN has now standardised the disease variant names on an alphabetical series that does name those responsible for tracking this mess across continents: "Allegiant, Braniff, Continental, Delta..." with presumably future variants being branded as product placement for Easyjet, Flair and Garuda.
Delta city council was non-plussed. Its chairman stated, "It's no great loss to not have to listen to American border politicians complaining ad infinitum that Canada has sealed its southern borders, but this wall is a bit of an eyesore. Couldn't you folks just leave Delta out of this?"
Sources
[
edit
]