UnNews:New President Bush CD Brings Heat
Jump to navigation
Jump to search
---
Straight talk, from straight faces
✪
UnNews
✪
Friday, June 9, 2023, 17:35:

59

(UTC)
---
| | | |
| --- | --- | --- |
| New President Bush CD Brings Heat | | |
1 August 2006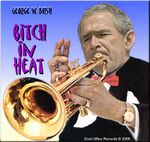 WASHINGTON D.C. -- President Bush's long-awaited sixth album, "Bitch in Heat," is sure to put all the negative rumors that he's "lost his chops" to rest.
This straight-ahead re-bop jazz effort shows Bush in top form, with kicks and licks that continue to draw on his encyclopedic knowledge of predecessors such as Dizzy Gillespie and Miles Davis, while at the same time exploring the outer regions of tonality and rhythm like no one else can.
"Bitch in Heat" packs each track with Bush's signature style, which is sure to give long-time fans reason to add another Bush CD to their collection. But that's not to say that Bush has stagnated since the release of his last platinum-selling CD, "Pink Metropolitan," six years ago. If anything, the time spent away from the studio and in the White House has added an extra dimension of mature flavor to the mix, which seethes with raw sexuality in a context of intellectual exploration.
Sometime collaborator Miles Davis, who worked with Bush on the title track, tells UnNews via the UnCanninator that Bush, "... may be the only white musician today that I consider at least my equal, and maybe even my better. The shit this cat comes up with is so above and beyond, man, that I wish I had three ears so I could hear and absorb it more."
Bush's album debuted in the Number 3 spot on the Billboard chart, and talk continues about Bush making a round-the-world tour at the end of his next term.
"We haven't decided yet on a tour," said Bush. "A lot will depend on how much time I want to devote to being on the road, as opposed to laying down more tracks in the studio. My head's just busting with ideas just waiting to get out, either on stage or in the studio. I just don't know which I need to concentrate on most."
Sources
[
edit
]