UnNews:Lil' Wayne arrested on drug charge – statement goes platinum
Jump to navigation
Jump to search
---
Every time you think, you weaken the nation —Moe Howard
✪
UnNews
✪
Friday, June 2, 2023, 09:04:

59

(UTC)
---
| | | |
| --- | --- | --- |
| Lil' Wayne arrested on drug charge – statement goes platinum | | |
23 June 2010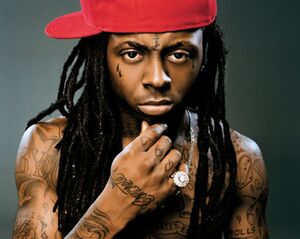 YUMA, Arizona -- Rapper Lil' Wayne may avoid jail time on an Arizona drug charge according to a plea deal that was announced Monday. As previously reported, Wayne gave a statement to police when he was arrested which became the best selling Rap of his career thus far. A partial transcript of the statement reads as follows:
POLICE OFFICER: "You have the right to remain silent..."
LIL' WAYNE: "Say whaaat?"
(Drum beat)
LIL' WAYNE: "Shit, man! If I was silent - then what-coo gonna know? And how you gonna find - any mother-fuckin' blow?
"But if I tell you what choo want - If I give you all the story. Then what-choo gonna get, chump! - Some mother-fuckin' glory?
"My lawyer he daa man - he gonna tear yo' ass apart! Yo' can save yo shit fo' court, bitch - right now from the start!
"So take yo' fuckin' case - and stick it up yo' ass! Cause I ain't got no time fo' jail - I's jus' gonna pass!
"I ain't doin' time, cause I's too good at rhyme!"
"I ain't doin' time, cause I's too good at rhyme!" ©Peacenik Publishing.
The police statement was released by Lil' Waynes' record label under the title, "I ain't doin' time" – and the song went platinum 3 months before its announcement.
Lil' Wayne is a multi-platinum-selling, Pulitzer prize and Grammy-winning rap artist. His hits include "The Block is Hot" and "Lollipop." His album "The Carter III" was the top selling disc of 2008. His latest album, "Busted" - which contains the hit, "I ain't doin' time!" - was released earlier this month.
The rapper, whose legal name is Lincoln Jefferson Carter V could receive 36 hours of sound deprivation in the plea deal, according to court documents from Yuma County Superior Court in Arizona.
Carter was facing a maximum sentence of three days of sound deprivation if convicted in the Arizona case, according to court documents.
The charges stem from a January 2008 bust on his tour bus where 3 KG of the drug cocaine was allegedly found in his backpack. Wayne claimed it was for personal use only, and his attorney was able to prove that to the court by explaining the extent of Wayne's drug habit. Wayne explained to the judge, "Yo! I been doin' blow for years and I ain't got no habit!"
Carter's earlier New York charges stem from his arrest in 2007 outside New York City's Beacon Theater. According to police, Carter had a "suitcase nuke" AKA a "Hood Nuker" (Mk-54 SADM Special Atomic Demolition Munition) on his tour bus. His attorney argued successfully that the device belonged to Eminem.
The plea deal is a recommendation and needs to be confirmed when Carter goes in front of a judge - to lay down his rap - at a later date. Lil' Wayne fans all over the globe can hardly wait to hear his Rap to the judge.
Sources
[
edit
]