UnNews:Kaitlyn Leeb's third boob makes her feel like a "freak"
Jump to navigation
Jump to search
---
The news outlet with approval higher than Congress
✪
UnNews
✪
Tuesday, June 6, 2023, 20:45:

59

(UTC)
---
| | | |
| --- | --- | --- |
| Kaitlyn Leeb's third boob makes her feel like a "freak" | | |
23 July 2012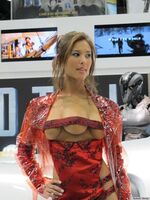 TORONTO, Canada – Those kooky Canucks! They hit the Hollywood jackpot, and all they do is bitch! Imagine winning a role in the remake of Total Recall and complaining about it. That's exactly what Canadian actress Kaitlyn Leeb is doing, much to the chagrin of Original Films executives and their counterparts at Columbia Pictures, the company distributing the movie.
Leeb's complaint is not that she's typecast as a hooker.
"I'm a mutant or a cyborg or an alien or something—the plot's kind of hard to follow," she admitted; "it's sci fi instead of a romantic comedy—but the good news is that I have three boobs!"
She said it's "a hooter hoot to portray a woman "or whatever" with three breasts. "The Hooters Girls don't have a thing on me!"
To support the film, Leeb has appeared topless at Comic-Com 2012. "I was in character," she admitted.
She said she got "a lot of looks."
Since the studio released photographs of her "in character," she has received even more looks, both online and in person.
And that's "the problem," Leeb said.
"People stare at my breasts now, even when I'm not in costume. They seem astonished, especially the men. It's as if they've never seen a woman with three breasts before."
She underwent surgery to have the third breast implanted in order to audition for the role. She is "hurt," she said, "by people's assumption that the third breast is natural, as if I have polymastia or something."
Polymastia is the medical term for the condition in which a woman has more than two breasts.
"It's like they think I'm a genetic freak or something." Nothing could be further from the truth, she insists. "The third boob is silicone, hello!"
Until people started asking her if "all three are real," Leeb said, she was fine with fans ogling her, "but now that I know some of them think I'm a freak, their stares are unwelcome. I feel like a human oddity in a sideshow."
"Didn't they learn anything from Lycia?" she wondered.
Lycia Naff originated the role of the triple-breasted prostitute in the original Total Recall movie starring Arnold Schwarzenegger.
"I thought Naff's nubs were the real deal, too," Buster Outt, a fan of the movie franchise, admitted, rather sheepishly. "I'm sorry to hear that only two were naturals, and I'm sorry to hear that one of Leeb's boobs is fake, too. Of the two actresses, though, I'd have to say that Naff wears her boob better."
In the remake of the original movie, Colin Farrel plays Doug Quaid, the part that Schwarzenegger played before he accepted the role as California's governor. Quaid, like Schwarzenegger, has only one penis and two testicles, Farrel said, adding, "I wish my character had "more to work with."
Kate Beckinsale plays Quaid's wife, Lori. "I have only two tits," she said, "but I'm still three times the actress Leeb will ever be."