UnNews:Hurricane Noel goes missing in Bermuda Triangle
Jump to navigation
Jump to search
---
Democracy Dies with Dignity
✪
UnNews
✪
Tuesday, June 6, 2023, 19:22:

59

(UTC)
---
| | | |
| --- | --- | --- |
| Hurricane Noel goes missing in Bermuda Triangle | | |
4 November 2007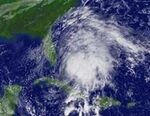 MIAMI, Florida - Hurricane Noel, the deadliest named storm of 2007, went missing Saturday in the Bermuda Triangle. The storm, which had left 120 people dead and thousands homeless in the Caribbean, headed north after leaving the Caribbean in chaos, right into the path of the Bermuda Triangle. The triangle is infamous for making anything that gets within its grasp disappear, including planes, boats, and apparently hurricanes.
Jim Smithers, of the National Weather Service made a statement saying, "We were tracking the storm on Radar and then it disappeared at 5:27 p.m. eastern time. There is no conclusive evidence as to what happened to Noel at this time. We wish for his safe return."
Many scientists, including Michael Alexander, have already offered up explanations for the sudden disappearance including possible Alien abduction. "I think this just shows that no one is safe from danger in this world today. Hurricane Noel was a brutal murderer and it seems he met his match when he tried to mess with the Bermuda Triangle. That place is sacred ground for extra terrestrials and he never should have crossed it's path. Hurricane Noel was likely abducted and taken aboard an alien spacecraft for experimentation."
Whatever the case, it was obvious that Noel had crossed into unchartered waters. President Bush called for a special meeting today at the White House to discuss this issue. "Today is a sad day for America. Hurricane Noel, the 14th named storm of the season, was gaining strength as it neared Miami, Florida. Noel spared Miami and abruptly headed right to the center of the Bermuda Triangle. He has not been heard of since. However, the triangle will pay for her actions, and we can guarantee victory, and hopefully the return of Noel unharmed."
President Bush quickly put out a nationwide search and rescue effort to locate Noel, but the search took a tragic turn as all 86 of the planes and boats sent to the waters immediately went missing. Alien abduction or time warp has been proposed as the reason for Noel's disappearance. Bush later said that he thinks that the crew has found Noel, but the administration has temporarily lost contact with the convoy while they are probably in another dimension of space or time. President Bush said that if Hurricane Noel is not located within 24 hours, the U.S. will declare war on the Bermuda Triangle. Stay tuned to UnNews for further updates on the search and rescue attempt.
Sources
[
edit
]