UnNews:Hashtag brings Mideast peace
Jump to navigation
Jump to search
---
UnFair and UnBalanced
✪
UnNews
✪
Monday, December 4, 2023, 00:35:

59

(UTC)
---
| | | |
| --- | --- | --- |
| Hashtag brings Mideast peace | | |
21 October 2023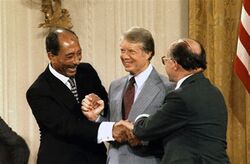 NEW YORK CITY -- The Israeli and Palestinian governments have ended their feud for good, after thousands in New York made the #CeaseFireNOW hashtag go viral on the service formerly known as Twitter.
"It was really something," Palestinian President Mahmoud Abbas stated. "These Americans, who have nothing to do with this, really opened up my mind."
"Yes, those Yankees are right again," added Israeli Prime Minister Benjamin Netanyahu.
In response to the outpouring of American emotion, Abbas renounced his country's longstanding drive to occupy territory "from the river to the sea", also-known-as Israel. He said Gaza may dismantle its missile tubes and try to weld them back into the municipal plumbing systems they came from, as Israel magnanimously turns Gaza's drinking water back on. Netanyahu, for his part, said Israel will publish a list of kibbutzes and grade schools with potential rape/beheading victims.
U.S. President Joe Biden, in a televised address following his whirlwind visit to the region, said he is gratified that his son Beau Biden's violent death two weeks ago in an Israeli kibbutz, "surely at the hands of the Israeli Defense Force", has led to something positive, which seals the case for sending $116,000 million more to Ukraine. Aides promptly emerged claiming the President had "mis-heard something". No comment was forthcoming from the U.S. Congress, which is Closed for Renovation.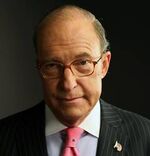 The hashtag is the brainchild of Abner Fracas, a minor official in the New York City government, nominally responsible for clearing paying customers out of the city's hotels so that city government can pay double to house a small portion of America's wave of border-jumpers. Fracas said he pursued the notion in his spare time, using only his old Huawei cellphone.
Recovering Jew Larry Kudlow (left) said the campaign is the most successful since #FreeThoseGirlsNOW, popularized by Michelle Obama, induced Boko Haram to free hundreds of Nigerian schoolgirls in 2014 and begin attending Catholic Character Development (CCD) sessions.
"In fact," Netanyahu added, "those plucky New Yorkers have given me a sudden craving for a nice pulled-pork sandwich!"
Sources
[
edit
]